Ports of Call
Luxury destinations
Explore our ports of call, where you can walk, shop, and dine in Caribbean paradises!

Fort Lauderdale, FL
There is an abundance of things to see and do in the Fort Lauderdale area: visit the newly redesigned Fort Lauderdale Beach and cafes, stroll the historic Riverwalk, shop the luxurious stores on Las Olas Boulevard or venture to the Everglades for an intriguing air boat excursion.
---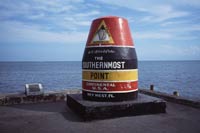 Key West, FL
One of the first things you'll notice about Key West, after the colorful gingerbread wooden houses and the amazing sunsets, is the constant crowing of roosters. Hundreds of the noisy birds—along with their quieter-clucking mates—roam the streets at all hours, and are nearly as synonymous with Key West as its six-toed cats, the famous furry residents of Ernest Hemingway's mansion in the Old Town district. They're all part of the quirky charm of the United States' southernmost point, whose compact 11 square kilometers (4.2 square miles) pack in everything from gorgeous historic architecture and spectacular fishing and sailing to a raucous party scene along famed Duval Street.
While the island is known for its laid-back approach to life—"Margaritaville" singer Jimmy Buffett developed his signature musical style in bars around town—it also has a flourishing creative scene, with many galleries and artists' studios as well as live theater. But back to those brilliant sunsets: There is no shortage of places in Key West to soak in the fiery spectacle, from sunset cruises to rowdy waterfront bars to peaceful beachside parks.
---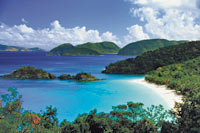 St. Thomas, USVI
The capital island of the U.S. Virgin Islands is often the first stop for travelers as they begin to explore the Caribbean. Its easy access, use of American currency and cultural cues, as well as its reputation for safety, make St. Thomas the easy first choice. But just because it appeals to the comfortable side of travel doesn't mean that St. Thomas is basic. Just the opposite—the 80-square-kilometer (31-square-mile) island is full of superlatives. It's home to some of the Caribbean's highest viewpoints, spectacularly positioned among verdant tropical foliage. It offers some of the best snorkeling around. And the island has got the hands-down coolest attraction in the region—an ice museum.
St. Thomas is encircled by pristine beaches, and the island's towns offer excellent shopping and dining. Charlotte Amalie, the main town, buzzes with activity: It's one of the busiest cruise ports in the Caribbean. Founded in 1666 and renamed in 1691 to honor the Danish queen, Charlotte Amalie contains excellent examples of Danish-colonial architecture. In fact, a number of sites in Charlotte Amalie are listed on the National Register of Historic Places.
---

Half Moon Cay
Also known as Little San Salvador Island, Half Moon Cay is located 16 kilometers (10 miles) southeast of Nassau. In 1996, Holland America Line purchased the island and decided to set aside most of it as a protected wildlife sanctuary—only two percent of the island has been developed. This is especially appreciated by photographers and bird-watching enthusiasts as they explore the preserve and its variety of species. At 10 square kilometers (four square miles), the island is small enough that you can see it all in a day, yet large enough to offer a range of activities: horseback riding, snorkeling with stingrays, a range of water sports and, of course, simply lounging on the beach while taking occasional dips in the clear sea to cool off. At the island's Straw Market, you can shop for crafts made in the Bahamas, while the waterfront bars and Tropics Restaurant are ready to serve you a meal or drink when you've finished surveying your private paradise.