Ports of Call
Luxury destinations
Explore our ports of call, where you can walk, shop, and dine in Caribbean paradises!

Fort Lauderdale, FL
There is an abundance of things to see and do in the Fort Lauderdale area: visit the newly redesigned Fort Lauderdale Beach and cafes, stroll the historic Riverwalk, shop the luxurious stores on Las Olas Boulevard or venture to the Everglades for an intriguing air boat excursion.
---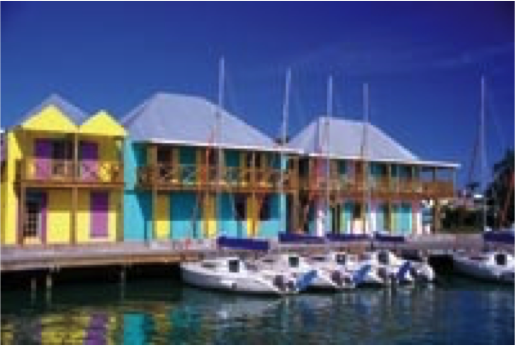 St. John's, Antigua, Antigua & Barbuda
The former British colony of Antigua is something special. Just ask Richard Branson, Eric Clapton, Giorgio Armani and Oprah—they all have homes here. Known for its beaches—there are 365 of them, all white sand lined with palm trees—Antigua also boasts charming harbors and a countryside dotted with old sugar mills. At one time the island was a juggernaut in the sugar trade, and also produced tobacco and cotton. Today, agriculture is still important, with Antiguan sweet potatoes, black pineapples and guavas being among the major crops. The capital city of the dual-island nation of Antigua and Barbuda is St. John's, the center of commerce, with international banks and boutiques as well as a lone rum distillery. Elsewhere on Antigua, English Harbour is of particular note for its maritime heritage, historic sites and excellent restaurants—plus, while there, you'll get to glimpse some impressive yachts as they sail in and out of the bay. The highlight is the restored Nelson's Dockyard, which features gorgeous 18th- and 19th-century architecture but also buzzes with modern eateries and shops.
---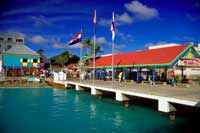 Basseterre, St. Kitts & Nevis
The British and the French played keep-away with the island of St. Kitts in the 17th and 18th centuries, with the British ultimately controlling the island, its capital, Basseterre, and Fort Brimstone, the "Gibraltar of the West Indies." Take a cruise to the city today and you'll see traces of both countries, in a setting that's all Caribbean. Part of the Windward Island nation of St. Kitts and Nevis, the busy port of Bassterre eases along a sheltered bay surrounded by green hills and mountains. Highlights of the town include Independence Square, the old section of town; the Circus, a main shopping district; and St. George's Anglican Church, built and rebuilt in the 300 years since its initial construction.
---