JOE NICHOLS TALKS CLASSIC COUNTRY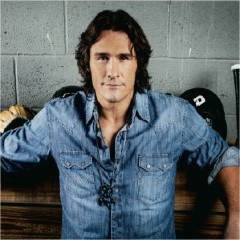 When we caught up with Joe Nichols, he'd just driven thirteen hours from his East Texas home to play some shows out west. Tired or not, he was eager to talk about Classic Country.
Joe didn't break through until the 2000s, but his roots are unmistakable, and as he tells us, he'd paid some Classic Country dues by then.
After Joe's hit streak got underway, his hits were unmissable, and he'll play them all for us. He might even have some new ones by the time he joins us.
We'll hear "The Impossible," "Brokenheartsville," "What's a Guy Gotta Do," "Tequila Makes Her Clothes Fall Off," "Size Matters (Someday)," "I'll Wait for You," "Gimmie that Girl," "Sunny and 75," and "Yeah." All of them Top 10 country hits.
And he'll probably sing "Who Are You When I'm Not Looking," a song he cut for his 2007 album Real Things. His record company didn't think it sounded like a hit; Blake Shelton felt otherwise and took it to No. 1.
The COUNTRY MUSIC CRUISE is all about Classic Country. Every generation has a different idea of Classic Country. What's yours?
The timeless records. The ones that sound as good today as they did when they came out. They might be from the Sixties, Seventies, Eighties, or later.
Everyone says you're an artist in the Classic Country tradition – and everyone's right.
I have a background in Classic Country so I take it as a compliment, especially when you see so many guys come and go after a couple of hits. To me, "Classic Country" is a badge of honor and I'm proud to wear it. I see younger people gravitating to it now. Nineties, Y2K Country. Earlier than that.
Your dad had a big ol' stereo console. What did he play on it?
That stereo was a piece of art. It was as big as a coffin. My dad was an odd guy in a lot of ways. He was a truck driver, security guard, and a cop. He'd get up at five o'clock in the morning, go to that old console and just crank it up. Merle Haggard's "Swinging Doors. Marty Robbins' "Don't Worry." Songs like that. He'd have the volume on "10." Wake us all up. Wake up half the street.
Was there a singer or a record that made you think, "That's what I want to do"?
There were some albums I played on repeat. George Strait's Greatest Hits. Incredible record. Every song was straight from the heart. Randy Travis' Storms of Life. Again, every song is a gem, top to bottom. Keith Whitley's Kentucky Bluebird and Don't Close Your Eyes. Some of Hank Jr.'s late Seventies albums. Haggard, of course. I loved "Misery and Gin." What a song for a kid to love!
Were those the songs you'd play when you were a dee-jay in high school?
That was in Springdale, Arkansas. I did the overnight shift from midnight 'til six AM. The station's format was "Hot New Country," but I'd play what I liked – Garth, Travis Tritt, Tim McGraw, Randy Travis, George Jones – 'cause I figured no one was listening. I'd pull records from the back wall of the record library. Turned out that the station manager got up early, and he fired me!
If someone had walked in on your first band, Joe Nichols and the Rodeo Band, what would they have heard?
That was the mid-Nineties. We were playing a plethora of songs and styles. I didn't know who I was then, but of course we did the Eagles, Gene Watson's "Farewell Party," and even some of my originals.
What would Joe Nichols in 2023 tell Joe Nichols back then?
I'd tell him to take his time and figure out who he is. Figure out what works and weed out the other stuff. I just knew I loved playing live and songwriting. That's never changed.
You made your first album in 1996, but didn't break through until 2002. Did you always believe you would find the right combination?
That first album was for a little indie label. It got some plays on CMT. It didn't do much, but it gave me a real taste for the business. Made me think, "I can DO this!" I moved to Nashville. Bare-bones'd it there. Took any kind of job going to keep it together. Moving furniture, installing cable TV, selling steaks door-to-door. Meantime, I was beating it up and down Music Row. My style wasn't selling then, but I kept at it.
From the time I was in high school, I knew I wanted to do one of two things: play baseball or sing. I went face-first into music. From the outside, it looked like money and girls. I never was going to design spacecraft for NASA or head up a Fortune 500 company. Country music was it. I went to the brink of giving up a few times when no one would listen to me. But then it seemed like my style came back into vogue, and I was signed to Universal South. My first single for them was "The Impossible."
Do you remember hearing yourself on the radio for the first time?
Well, a song from that first album got played on a station in Fort Smith, Arkansas. I thought THAT was big time, but of course it wasn't. Then, six years later, "The Impossible" was everywhere. It was an incredible time. You could feel the buzz. Everyone at the label and in radio knew it was going to be big, so of course I fed off that. That moment made all the scuffling worthwhile.
You mentioned that you also wanted to be a baseball player and you're a big St. Louis Cardinals fan. Do you think that by the time we see you on the 2024 COUNTRY MUSIC CRUISE that the Cards will be division champs or even World Series champs?
They have a couple of glaring problems. First, they don't have an ace—someone who will stop a losing streak. A pitcher who is pretty much guaranteed to go seven innings. The other problem is that Yadier Molina has retired. He was the catcher for nearly twenty years. They miss his bat, but more than anything they miss how he called the games. He was a genius, really. In terms of hitting, the Cards are up there in the top five, but they need that ace who can nail down a Wild Card game. "Hope" is not a strategy.
We're looking forward to seeing you on-board. There's no driving between shows so we hope you can make some time to relax and meet our guests.
I'm looking forward to it. Really am! Every show, my top priority is meeting the fans. I don't like artists who think they're too cool or too big to meet the folks who put them there. I was that way myself for a few years, but now I look forward to meeting everyone and hearing their feedback and their stories.