The Country Music Cruise Connection Checks in with David Ball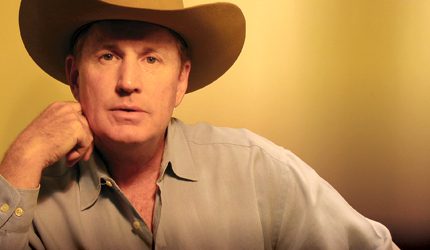 We'll make a confident prediction that David Ball will be one of the unanticipated fan favorite artists on the 2019 sailing of The Country Music Cruise. We booked him because he plays the music that so many of us love: bar-room shuffles, Western Swing, Honky Tonk, and Rockabilly. In other words, Plain ol' Great Country Music straight from the heart.
We caught up with David at home near Nashville. He was putting the finishing touches to his new album, Come See Me. It'll be available when he joins us. Meantime, check it out online.
Your recent shows have featured some old Western Swing songs. Can the guests on the Country Music Cruise expect to hear some of that?
We love to mess around with some Bob Wills songs, but it won't be exclusively Western Swing. We run the gamut of what we love to do. Rockabilly, Western Swing, Bakersfield. Fact is, I love everything from the Fifties. Pop, Country, or Jazz. A lot of that makes its way into our music.
Before coming to Nashville, you were in a group called Uncle Walt's Band. This year, there was an Uncle Walt anthology issued on Omnivore Records. Was that a surprise after thirty years?
Big surprise. The band started in my hometown, Spartanburg, South Carolina, but we really found our home in Austin, Texas. We actually came to Nashville first, but we kept meeting people from Texas, and they all said, "You guys should move to Austin." This was the early Seventies. Willie was living in Austin, and he broke through with "Blue Eyes Crying in the Rain" about a year after we moved. Jerry Jeff Walker was there. Great bands. They fit in with my idea of how music should sound.
If someone thumbed through your record collection in the late Sixties, early Seventies who would they have found?
Well, Uncle Walt's Band was named for Walter Hyatt, and Walter turned me onto all different kinds of music, much of it older music. I took up the upright bass in eleventh grade, and I really got into Fifties music that had an upright bass. I loved a Canadian folk duo, Ian & Sylvia. I was into the blues singer Leadbelly. And Louis Armstrong. Crazy stuff. If it swung, I loved it, especially if it had a guitar and upright bass. Walt's dad had some old Hawaiian records and we were deep into that for a time. And Django Reinhardt, of course. We just soaked it all up. Then we tried to adapt it to our harmony singing.
(Although Uncle Walt's Band has a growing underground reputation, there will be no reunion because Walter Hyatt perished in the 1996 Valu-Jet crash in Florida, and the third member, Champ Hood, died in 2001. Occasionally, David performs with Uncle Walt tribute shows).
You came to Nashville just as Randy Travis, Steve Earle, Dwight Yoakam and others were bringing back a "rootsier" sound to country music. Did you feel that you belonged in that wave?
Yes, but even before then, I heard Ricky Skaggs on the radio singing songs that we were doing. Old Ray Price songs, and so on. So, yeah, that's what brought me to Nashville. Then Randy came along. I just loved his first album. He nailed it. George Strait was breaking through then, too. We knew him in Texas. It felt like the right time. I kinda knew Uncle Walt's Band wouldn't make it because we only sounded really great in small venues. One time, we were on a bill with the Marshall Tucker Band, and it didn't go well.
When you came to Nashville, were you thinking you'd be a songwriter who made a few records or a singer who wrote a few songs?
My goal was to make a great country record. I didn't care if I wrote the song, though I guess my music publisher did. I was trying to write Nashville songs. There's an art to getting it all down to two minutes and forty-five seconds. When it works, there's nothing better. I wanted to get that good as a writer and to make the records I wanted to hear. I got a publishing deal, and it gave me the freedom to take a year off and learn how to build a song. They say it takes five years to make it, and --sure enough-- five years after I came to Nashville, "Thinkin' Problem" was a hit. It was all I ever had in my mind to do. Write a great song and make a great record out of it.
When you had big hits with "Thinkin' Problem" and "When the Thought of You Catches up with Me," you were probably pitched out onto the road. Did you love the road, or were you itching to stay home?
There's good and bad in everything, I guess. I got to play some of those Texas dancehalls I'd always wanted to play. Me and the band sounded great in those venues. Most of them had low ceilings. That seemed to do something great to the sound. Playing those places with a hit record was always my goal. Then, of course, we'd be playing somewhere in Canada in the middle of winter. Not so good. The bus tours are a different way of life. Sleep all day like vampires. We did two hundred dates a year at one point. That'll get old.
How did you find "Riding with Private Malone" (Number Two hit in 2001) or did it find you?
I was in the studio, demo'ing some songs. A guy called Wood Newton was there and he was talking about a song he'd written with Tom Shepherd. A haunted car song. I thought it was a fascinating idea. They asked me to help them finish it, and I stupidly said I had to go to the grocery or something. Anyway, they finished it and gave it to me. I'd never heard a story put together the way they did it. Some people see it as a patriotic song, and I'm not against patriotism, but I see it more as a tribute to the guys who died in Vietnam and everything that the guys who were over there endured.
Tell us about your new album, Come See Me.
We did most of it in my basement, and I think it's really good. It's raunchy. A very loose record. After I left Warner Bros. Records, I got rid of the overproduction. And instead of being told to be in the studio at a certain day and time, I did it when I felt it and when I wanted to. I played most of the instruments. Just be thankful I didn't play fiddle. It's got some of the Willie Nelson vibe from Red Headed Stranger. Simple. Not overcooked.
Have you worked a cruise before?
Yes, and I'm ready to go. I've heard nothing but great things from artists I know who've worked The Country Music Cruise. On cruises, I can't believe I'm out in the middle of the ocean on this big, beautiful ship. I love the atmosphere. Getting to know the fans. I love playing music for people who love my kind of music. That's fun for everyone.
Anything you'd like to add?
Yes, I want them to let me pilot the ship. I'm not going to try to parallel park it or anything like that, but I'd like to be up there with my hand on the tiller.
Not sure we can accommodate that!
You asked.
- Colin Escott © 2018