Greatest Performances From The CMA Awards Now Available on DVD!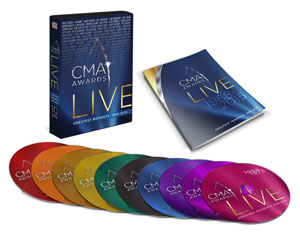 For the first time ever, the greatest performances from the CMA Awards are available on DVD. You'll take a front row seat to see country's biggest stars perform live.
This collection takes you from the early days of the CMA Awards in the late 1960s when Loretta Lynn, Johnny Cash and Glen Campbell dominated the music scene to today's top stars including Carrie Underwood, Little Big Town, Luke Bryan and Chris Stapleton. This collection of CMA Awards performances showcases the diversity of talent and the powerful songs that have made country music the heartbeat of America.
Highlights Include:
127 live performances featuring five decades of country's greatest stars performing their biggest hits
Unforgettable collaborations
Newly produced bonus interviews with country legends plus CMA bonus features
44-page memory book including show photos, a history of the CMA Awards, plus a year-by-year guide to 50 years of Award winners
Features a 'Who's Who' of country artists including Alabama, Brooks & Dunn, Glen Campbell, Vince Gill, Alan Jackson, Miranda Lambert, Barbara Mandrell, Reba McEntire, Buck Owens, Brad Paisley, Dolly Parton, Charley Pride, Rascal Flatts, Kenny Rogers, George Strait, Randy Travis, Tanya Tucker, Carrie Underwood, Keith Urban, Trisha Yearwood, Dwight Yoakam, and dozens more.
Click here for more details.