Wade Hayes' – Seventh Time Around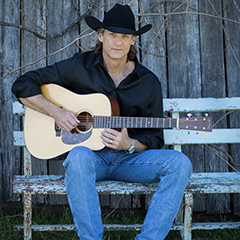 When we were assembling the artist roster for the first Country Music Cruise, we'd heard only good things about Wade Hayes, so we reached out to him. We had no idea he'd become one of the cruise's mainstays. Every year, Wade has been a featured performer, and he and his band have backed other artists.
Wade and our host Lorianne Crook are the only performers who have been on every Country Music Cruise.
Now let's see what Wade Hayes has been up to lately.
You got married in 2019. Congratulations!
Thank you! We got married right before The 2019 Country Music Cruise, and the Cruise was our honeymoon. Folks seemed to find out about it, and everyone was super nice to Lea and me.
Looks like you sailed on your first wedding anniversary. Did Lea sail with you?
Of course!
And in 2019, you celebrated your fiftieth birthday. Did you do anything special?
Lea took me to Atlanta to sing "God Bless America" during the Seventh Inning Stretch of a Braves game. I'm a longtime Braves fan, so that was a great surprise. I just sang a cappella from the third base line. Then the Braves won!
You like restoring old pick-ups. Do you have a current project?
I sold one this year, and I've just finished a '74 Chevy. I just love old pick-ups. I drive them now, and I drove them when they were all I could afford. I do some of the mechanical work and some interior work, but I farm out the bodywork.
Did you have any idea when you signed up for the first Country Music Cruise that it would turn into a job for life?
I had no idea it would become such a lasting relationship and be so enjoyable. I've made some great friends among the guests, the artists, and the StarVista LIVE folks. I look forward to it so much every year. Plus, of course, it means warmth and sunshine in January. You can't beat that!
Do you meet people on the road who have seen you on The Country Music Cruise?
Man, yeah. People come up to me pretty much wherever I'm playing and say, "Hey, I saw you on The Country Music Cruise." And there have been so many sailings of The Country Music Cruise, it happens more often. From talking to people, it seems like we have a lot of repeat guests.
Do you get off at the ports of call, or use the down time to rehearse the sets when you'll be backing other artists?
I always get off. I love to walk around places I've never been. Check out the ports on foot.
What's your favorite onboard activity?
It probably should not be something work-related, but truthfully my favorite part is playing with the other artists. I love learning their music. T.G. Sheppard, Johnny Lee, T. Graham Brown, Randy Owen, and so on. They're depending on you, and you have to come through for them.
How do you prepare for backing other artists?
They send me their setlists. Maybe MP3s, too. I get together with my band here in Nashville, and we'll rehearse as long as it takes.
You worked for Johnny Lee for a while before your recording career got underway. Is it a trip down memory lane playing with him again?
Sure is. He gave me my first job in Nashville, playing lead guitar for him. I'll always be grateful to him for that. I'm always amazed how easily those songs come back to me. I played them so often, I guess. He always liked me. Watched out for me when I was a pretty naïve kid.
Does he still tell the same jokes?
He'll still break out the old ones every now and again, but he has some new ones, too. Once in a while, he'll text me a dirty joke he's picked up somewhere. Does that surprise you?
You went through two bouts with cancer, and you've made no secret of it. Have any guests on The Country Music Cruise shared their own stories with you?
All the time! Every cruise. I'm happy to sit with them, too. To me, part of the deal of making it through is to share your experience and any knowledge or coping skills you've attained.
What have been your favorite moments from past Country Music Cruises?
It's got to be the Opry shows, the Grand Ole Opry at Sea. We work those shows, and it's just like experiencing the Opry in Nashville, except the fans can get up closer. And I have a new album out for Christmas 2019 called Who Saved Who. The title song is about my old dog. A rescue dog. I premiered that song on the 2019 cruise, and I saw folks weeping. It's good to know that other people feel the same way about their pets. The whole album stemmed from that song, and it was the response on the cruise that persuaded me to record it.
Could you say a few words about Lorianne Crook? You two are now the only performers to have done every Country Music Cruise.
I've known Lorianne for years. The thing about her is that she's exactly the same in person as she is on stage. She makes everyone so comfortable. I don't know anyone who isn't a fan of hers. I'm always so glad to see her.
What changes have you noticed in the years you've been working The Country Music Cruise?
Only that it keeps getting better and tighter. The caliber of talent keeps getting better. It's just a great time!
- Colin Escott © 2020