The Country Music Cruise Connection Talks To Tracy Lawrence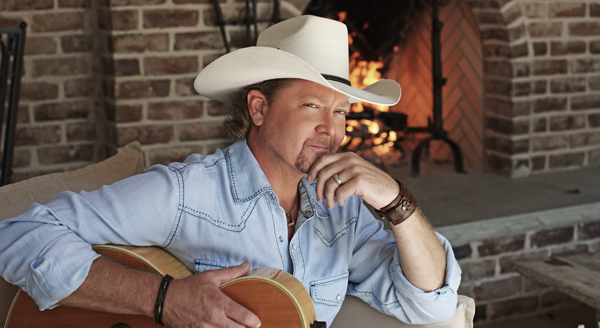 It was 1990 when Tracy Lawrence loaded everything into a beat-up Toyota and moved to Nashville. He'd been working clubs in Texas, Louisiana, and Arkansas. On his last club date, they took up a collection for him, totaling $700. In 1991, he was discovered at Nashville's legendary Bluebird Café, now chiefly famous as a recurring set on the hit TV series, Nashville. It was also the place where Garth Brooks and later Taylor Swift were discovered. There are only 90 seats in the place, but you never know who will be sitting in one of them.
Signed to Atlantic Records, his first single, "Sticks and Stones," went to the top of the country charts. There were another thirty-five hits through 2009, including seven chart-toppers. We're sure you remember them: "Alibis," "Can't Break It to My Heart," "My Second Home," "If the Good Die Young," "Texas Tornado," "Time Marches On," and "Find Out Who Your Friends Are" (with Kenny Chesney and Tim McGraw).
The last four years, Tracy has hosted a syndicated radio show, Honky Tonkin' with Tracy Lawrence. To do it, he had to figure out how to interview people, which was hard for someone who'd been the interviewee for twenty-five years. There's something special about peer-to-peer conversations, and the show has given Tracy an opportunity to get to know guys like Ronnie Dunn, Reba McEntire, Kenny Rogers, and T.G. Sheppard.
We caught up with Tracy the night after the CMA Awards show. As we'll see, he accepts that the music has to change, but there are some things about classic country music that he misses, and he's looking forward to joining us on the Country Music Cruise, where classic country is all you'll hear. Tracy was also prepping his thirteenth Mission Possible turkey fry for Thanksgiving. He and a host of volunteers fried 500 turkeys to feed hundreds of Nashville's homeless people. When everyone was full, Tracy played a concert.
It was your fiftieth birthday this year. Did you do anything special by way of celebration?
Hah, I wish! I was on the road. Actually, you know, 47½ was a bigger deal. That was the time I realized I was closer to 50 than 45. By the time I reached 50 I'd made peace with it.
It's almost a year to the day since you released GOOD OLE DAYS on your own label. What has been your experience of being your own label boss?
You find out who your friends are! The business has changed so much. So much more social media. It's no secret that physical records don't sell like they did, but I'm proud to say we've recouped on the record and made a little money. We sold a ton of them on the road, and because we brought so many contemporary guys onto the album it has got me back into the conversation. It led to me working a Blake Shelton tour. It's really got me back in the game.
You got some of the biggest artists in current country music (Jason Aldean, Luke Bryan, Tim McGraw, Dustin Lynch, and Kellie Pickler to name a few) for that album. Did you go in the studio with them or were the duet vocals added later?
Some of them, like Tim McGraw and Chris Young, were in the studio with me. Some of them, we added later.
You met Luke Combs on a prank call, didn't you?
Oh, man, that story is going to follow us forever. I wasn't that familiar with him, but these two syndicated radio hosts, Big D. and Bubba, wanted to prank him. They got him on the line with me, and I started telling him this big elaborate story about how I bought this chain of car washes from the bass player in Restless Heart. I was doing this big grand opening on the hand-wash car washes and asked if he would come play it. And he said, "Sure! I'll be there!" Then I found out what a huge fan of mine he is, so I asked him to be on the album. What a talented young man.
Did any of the guest artists tell you, "That was the first record I bought."?
It's great hearing what an inspiration some of my records were to these artists. After a while, to me, those hits are just songs off my first four albums, and you get detached from what they mean to people. Doing GOOD OLE DAYS brought it home that I had a huge impact on today's generation of country singers. It's flattering to think that guys who are at the top of the charts now grew up driving around listening to "If the Good Die Young" and "Alibis." I realize that I'm looked at by younger kids in the same light as I looked at guys like Strait and Haggard. It's very flattering.
What was the first record YOU bought?
Hank Junior's "Whiskey Bent and Hell Bound." I guess that would have been around 1979. I was about ten years old. I bought it and my aunt hid it for me. My mom and step-dad never would have let me have it. I could only play it at my grandma's or at my aunt's.
When you first came to Nashville, did you give yourself a year or two years to make it, promising you'd go back to Arkansas if it didn't happen?
I had no intention of ever going back. I was determined I was going to make it in the music business some kind of way. If I didn't make it as a singer, I was a pretty good songwriter. And I knew I was good at networking and building relationships. There was no question, it was gonna happen.
When you made it, you must have shared the stage with some guys you idolized growing up.
Yeah, I did. My first tour was supporting George Jones. And I worked with Mark Chesnutt and John Anderson. I was a big Mark Chesnutt fan. He was bringing back traditional country music, and I was all about that. John and I have remained friends through the years. And I've done tons of shows with Mark. I'm proud that George and I became close, too. We worked quite a few shows together after that first tour. He was very gracious to kids like me if he could see we loved real country music. He invited me out to his house to meet his family.
I know that picking your favorite hit can be like picking your favorite child, but is there one more than any other that has special meaning or significance for you?
Well, of course, they're all special for different reasons. That first hit, "Sticks and Stones," because it changed my life. "Alibis" because it was my second Number One hit, so I'd beaten what they call the sophomore jinx. "Time Marches On" because it was the best written song I've ever done. That was the great [songwriter] Bobby Braddock. But "Paint Me a Birmingham" is a song that stopped at Number Four, but it has a bigger impact on audiences than any other song. That's the song I close every show with, and pretty much no one closes with a ballad.
No music can stand still and survive, but what do you think country music has lost along the way?
Soul. Though there's a generation trying to bring it back. I think traditional country is about to re-explode. It reflects things going on in real life. Right now, country music's too citified. The highlight of last night's CMA Awards to me was Ricky Skaggs. I miss that style of music. There are a bunch of newer guys who record with a computer program called Pro-Tools. They can't do it live. Give me a five-piece country band playing live any day. I don't care if they hit some bad notes.
When you're down or frustrated, do you ever say to yourself, "What am I thinking? I get to make music for a living!"?
I got down when I became part of the generation that couldn't get on radio any more, but I came to see it as liberating. It got me out of a depressing cycle –record, tour, promote, repeat. You had to work those records up the charts. They could be great, but they weren't going to make it on their own. Now, you know what, it's peaceful. I have a fan-base. There's no treadmill. I've got this body of work. And, believe it or not, a lot of teenagers are discovering me because they want real country music.
Are you still hosting your radio show, Honky Tonkin' with Tracy Lawrence?
Yeah, we're in our fourth year. We're in ninety markets, and we're talking to a big conglomerate right now about adding a bunch more. It's been a blast.
Do you like working cruises?
Yeah. I like 'em so much I'll take cruises through the year with my wife just for relaxation. We've been to Hawaii, the Caribbean, and we have more in mind. I'm looking forward to the Country Music Cruise because we'll be in the Caribbean in January, and it'll be all real country all the way.