The Country Music Cruise Connection Gets to Know Tony Jackson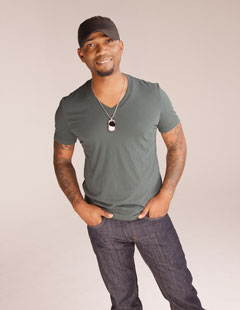 "Adapt, improvise, overcome" is one of the informal mottos of the U.S. Marines. That's pretty much Tony Jackson's approach to his now-burgeoning music career. At a time when most new country stars are barely out of their teens, Tony Jackson has served a four-year hitch in the Marines and worked his way up the corporate world. There's maturity in his voice, maturity in his choice of songs, and maturity in his approach to the business of music. He's fighting a tough, uphill battle to get his music heard, but fans of classic country have been looking for a fresh voice that can bring new life to old songs, mixing them with some new songs they can relate to. Tony Jackson might just be the guy. He has a compelling personal story, and he's looking forward to meeting everyone on The Country Music Cruise.
Check out the video of George Jones' "The Grand Tour." You'll come away with the same conclusion as millions of others: This guy Tony Jackson is for real.
Thanks for joining us on the 2020 Country Music Cruise. Have you ever worked a cruise before?
Yes, I worked a Larry's Country Diner cruise. And I enjoyed it. It was great, but I didn't get to perform very much. So I'm super-excited about going on The Country Music Cruise because I hear it's all music all the time, so if I'm not performing I'll be enjoying the other artists.
Our guests like to get a chance to meet the stars. We hope you're good with that!
Man, yeah. Don't mess with me while I'm eating, otherwise I'm fair game.
You grew up on Naval bases. Is there a city you think of as your home town?
I guess Virginia Beach, Virginia. My dad is from Richmond, Virginia and my mom's from Norfolk. When I was a kid, we were in Spain on base for three years. He was in the Navy.
Where are you living these days?
On the road! I do my laundry in Charlottesville, Virginia. I'm in and out of Nashville.
You were an I.T. guy at one time. Is there one piece of new technology that has made you think, "Man, I wish I'd thought of that!"
I was in information technology in the Marine Corps. Desktop support engineering, and so on, and then I was in I.T. in the corporate world, so I wasn't really in app development, but I wish I'd come up with ridesharing apps like Uber. They use nothing that hasn't been invented before …gyroscope, mapping, microphone, and so on… but it was a brilliant, game-changing idea.
We were always hoping that Randy Travis would recover sufficiently to join us on the cruise. We understand you met him many years back when he was at the top of his game.
When I was in the Marine Corps., overseas mostly, we had Armed Forces radio and television. There was no genre, but there was a lot of country music because country music has a strong sense of "home." Randy Travis was in pretty heavy rotation. I was in Spain, and a USO tour was coming over. Me and some friends went to the hangar where the show was happening. We met this guy. Didn't know him. He asked us a lot about us. Then that night he was performing. It was Randy Travis. Nicest guy you'd ever want to meet. He turned me on to country music.
When you started your music career, was there a moment when you thought, "No half-measures, I'm going for this … win, lose or draw."
I was working for Bank of America. And I was a weekend warrior. And I was playing in a band with some friends. Then, right after George Jones died, we went into a studio in Richmond and recorded "The Grand Tour" as a tribute. And then Donna Dean Stevens, who's the widow of Jimmy Dean, heard it. She had been a recording artist herself on Mercury. She was restarting the Old Dominion Barn Dance. She slotted me onto a couple of shows, then said, "We have to get you to Nashville." Bank of America was great. When I was on the road, they'd let me go into a local branch and work remotely. But then there came a point when I just jumped. Like you say, no half measures.
You came relatively late in life to recording. Do you think maturity is a good thing to bring to a song, a country song especially?
Yes, for sure. My experience has prepared me for travel and connecting with people. The thing I've come to realize is that the audience is not a crowd. It's individuals. They've set aside their Friday or Saturday night to be with you. They made an effort to come see you, and I'm going to make an effort to connect with them every way I can.
Can you tell us about some of the guys who volunteered to play on your first album?
I guess it started when my manager, Donna Dean Stevens, brought me the song "Nashville Cats." I'd never heard it before, so I dug around on the internet, found out about John Sebastian and the Lovin' Spoonful, who did it first. Donna introduced me to John. A really great guy. He volunteered to play on the album. Then Vince Gill brought in the Time Jumpers. Now that's pretty intimidating for a guy cutting his first album. I was looking around, thinking "This is not real life." I actually missed my cue to start singing on one song. I had my phone out, recording those guys sitting there. Anyway, I got with it.
Your album has been out a year. What has been the most gratifying thing about the past year to you personally?
It has just been great hearing from people in person or on social media, telling me what the music means to them. You can't beat that. Any time someone says, "I really enjoy that song," it makes my day. Making music and connecting. That's what it's all about.
It's one thing to sing a song like "The Grand Tour" in a club or a bar, and another to go into the studio and make it your own. Is it tough to imprint yourself on really well known songs?
You know, I didn't think about that. I just tried to keep it true. No strategy.
When can we expect the next album?
I'm working on it now. We're hoping to have it out in the fall, and I'll bring some onto the ship when we sail.
- Colin Escott © 2019