The Connection Checks in with Ricky Skaggs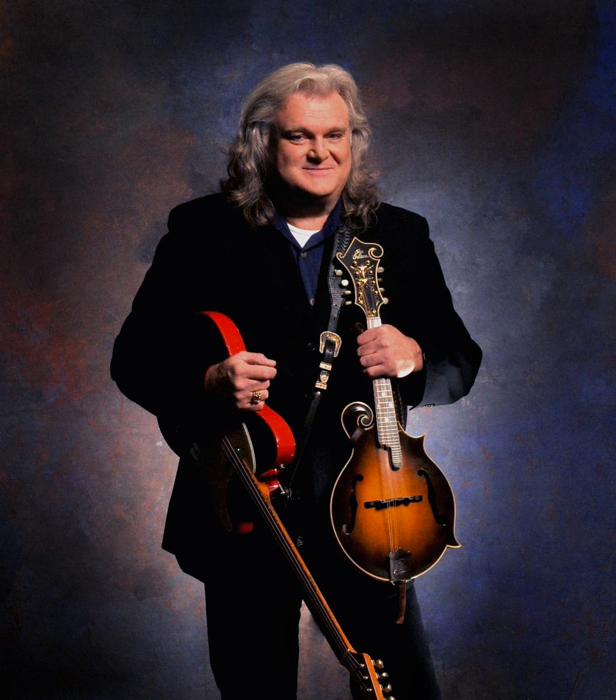 We're still in our afterglow from returning from The Country Music Cruise 2018, but there's already one very good reason to look forward to 2019: RICKY SKAGGS is joining us on THE COUNTRY MUSIC CRUISE to play his country hits with a full band. Ricky's '80s hits were not only some of the era's most memorable, they flew the flag for traditional country music at a time when country was chasing pop. Eleven Ricky Skaggs records, including "Crying My Heart over You," "Heartbroke," "I Wouldn't Change You if I Could," "Honey (Open that Door)," and "Country Boy," topped the chart. You'll hear them all … played just as they were recorded by an artist who's still at the top of his game.
In 1997, when Ricky quit country music to follow his heart back to bluegrass, the hits disappeared from his shows. Now he's making a special return to country music. We caught up with him shortly after he'd played at a memorial for Curly Seckler who'd died a few days earlier, aged 98. The last surviving first-generation bluegrass artist, Curly was a guitarist and tenor singer who'd worked with Flatt & Scruggs for years and had befriended Ricky Skaggs more than fifty years ago. Understandably, Ricky was sad to lose this link to his—and the music's—past, but, as he told us, "The old fathers have gone home. Now it's up to us. Their ceiling is our floor."
Back in the late '80s, Randy Travis, George Strait, Dwight Yoakam, Alan Jackson, and others were dubbed "new traditionalists," as if it was a new movement. Did you think, "Hey, me and Emmylou Harris and John Anderson, we've been in the charts with tradition-based country music for years"?
Hah, yeah! I guess Randy and them had better publicists! But, look, we have the records to prove it. Emmylou was the one carrying the torch. I replaced Rodney Crowell in her band until she got off the road for a year after she had her daughter, Meghann. If she hadn't done that, I might never have left and gone out on my own. And you know, Garth Brooks will always be the first to tell you that we were first. He puts the honesty to it. Alan Jackson, too.
Your "Country Boy" video was one of the first great country videos. You persuaded bluegrass patriarch Bill Monroe to star in it. He'd always presented a stern and unapproachable image, but in the video he's loose and funny. Which was the real Bill Monroe?
Mister Monroe always had a funny side. He wasn't as hard-as-nails as he seemed, but the unapproachableness was part of his persona. Then again, he was born in 1911, lost his parents early on, came up through the Depression. The thing was, he was a shy man and the unapproachableness was part of his shield. Sometimes, you'd just take a look at his face and you knew better than to say anything to him. Thirty minutes later it might pass. I LOVED the way we got the joy into that video. Look at it, you'll see him come in hard and go out soft, dancing 'n' all. That's kinda how he was.
The Grand Ole Opry is one of our partners. In 1982, you were the Opry's youngest-ever inductee. Was the Opry always a goal of yours?
As a young musician, I never thought it was possible, but it was my dad's goal for me. He moved us to Nashville when I was a kid so I could be seen and heard and get on the Opry. I guess he didn't know about child labor laws! But, look, I was backstage at the Opry in 1960 or '61 when the show was still at the Ryman. I had my mandolin ready. I was leaning up against a wall, all of seven years old. Earl Scruggs [of Flatt & Scruggs] comes up and smiles that big toothy grin of his. I played for him. He starts talking to my dad and right away I'm on their television show. You can see it on Youtube. I watch it myself sometimes. Can't believe I'm up there with Flatt & Scruggs. Did that really happen? Was that really me?
Lester introduced you as Little Ricky SKRAGGS didn't he?
That's right. Little Ricky SKRAGGS. You can tell we didn't do much rehearsing. Lester just came up to me and said, "When we come back from commercial, you come up behind and get my attention." If he wanted to call me "Skraggs" that was alright with me.
You've seen many changes at the Opry over 35 years. How do you see the show's future?
It's always been an audio picture of where country music is at that moment. And right now, of course, it's all over the map. I just love playing there. I'll do some of my country hits with the house band, then come back with [my bluegrass band] Kentucky Thunder. The audience loves it all. The Opry's general manager, Sally Williams, is a fan. She loves it all, too, she loves the Opry, and she knows the music can't stand still. It's got to grow and change. What's sad to me is that I don't see the younger performers embracing classic country … George Jones, Ray Price, Webb Pierce… the way I'd like, but I love seeing bluegrass so well accepted. The music industry has been writing off bluegrass for years if not decades. I say, "Well, if no one likes it, how come Toyota, American Express, and other big companies use bluegrass in their ads?" They're not using it to be nice.
You scored many, many country hits. Then, in 1997, you went back to bluegrass. Did you hang up your electric guitar or were you always keeping it warmed up?
I'm afraid the answer is that I didn't touch it, sometimes for two or three years at a stretch. Those amp tubes need to be warmed up and used pretty often, and I didn't do it.
You must have had many requests the last twenty years to revisit your country hits with the original full electric line-up. What convinced you to do it?
I got the idea I could do both from the Opry when I'd do some of the hits with the Opry house band. They were such great songs and so much fun to do. I just missed playing them. It's funny, but now we get as many requests for country music shows as we do bluegrass shows. And, get this, the Owensboro Romp festival in Kentucky, thirty miles from where Mister Monroe was born, booked us to do country shows this year. And it's a bluegrass festival. I said to my manager, "Are you sure?" But I'll do some bluegrass, too. Bluegrass is not as hardcore as it used to be. The fans keep an open mind. They just want good music.
Is the mustache coming back, too?
No! No, no, no.
You must have shelves of awards. Is there one more than any other that holds special meaning for you?
I'd have to say CMA's Entertainer of the Year. That's a pretty big deal.
What does this year, 2018, hold in store for you?
I'm bringing back the focus to where it really always was – the music. The last few years, I've worked with Bruce Hornsby, Ry Cooder, and others, and it's just a joy making music with people you love and respect. That's what I want to do.
We're really looking forward to seeing you on The Country Music Cruise in 2019. Have you ever worked a cruise before?
I've done a few, but my last cruise was one that [my wife] Sharon and I took through the Aegean Sea. It wasn't a work cruise. It was "us" time. We paid for it and loved it. I have a lot of friends among the artists on The Country Music Cruise. I'm really looking forward to seeing them and the fans, too, of course. It'll be great!
- Colin Escott © 2018