The 2018 Country Music Cruise Artists Are Multi-Talented & Friends!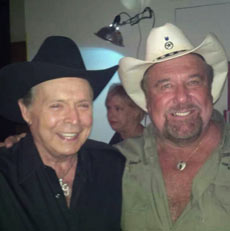 The Country Music Cruise will be one, big, rollicking reunion for so many of the superstars onboard. To see just how close-knit the country music community is, all you have to do is take a look at how much our Country Music Cruise artists all have in common with each other. We did a little digging and found out a few things that you may know about their shared talents, interests and friendships and maybe even a few you didn't:
Good ol' friends: Mickey Gilley and Johnny Lee were a force to be reckoned with in the early 1970s, holding court together at the legendary Gilley's Club in Pasadena, TX. Even Hollywood took note, paying homage to it in the film "Urban Cowboy" and introducing their honky tonk with the world.
It's a family affair: The Gatlins are brothers and Alabama are cousins. Lorrie Morgan's father was country singer George Morgan and Bobby Bare's son (Bobby Bare, Jr) is a critic's favorite in the indie-rock scene.
They're multi-talented: Jim Stafford hosted his own variety show on television and now owns the Jim Stafford Theatre in Branson, MO. We wonder if any of the commercials that aired during his TV show were sung by T. Graham Brown, who paid the bills early in his career by singing jingles for McDonald's, Disneyland, Budweiser, Coors, Coca Cola, Sears, Dodge Trucks, Ford, KFC and more. Or maybe Asleep at the Wheel, who had been known to record a beer commercial or two early in their career. These days, Dailey & Vincent have their own variety show, currently airing on the RFD network.
They've got friends in high places: Jeannie Seely and Larry Gatlin were both mentored by the great Dottie West. And Wade Hayes used to be a member of Alabama lead singer Randy Owen's solo band in the late 2000s.
Check out the full bios of all of our acclaimed artists here on the lineup page.