Sail to Beautiful Antigua on The Country Music Cruise 2018
As you have heard, due to the devastating impact of this year's hurricane season, we are no longer able to stop as originally planned in St. Maarten. We've been working with Holland America Line to confirm a revised itinerary for The Country Music Cruise 2018 and we are excited to announce that we will be replacing our St. Maarten port of call with the sun kissed island of Antigua. In addition to being a breathtaking destination in the eastern Caribbean; this port has the added bonus of being completely new for The Country Music Cruise. We are also pleased to announce that the rest of the 2018 itinerary will remain intact and we will continue to depart on Feb. 3, as planned from Ft. Lauderdale and make our original St. Kitts port of call.
---
SCHEDULE:
DATE
DAY
DESTINATION
ARRIVE
DEPART
02/03
SAT
Fort Lauderdale, FL, USA
5:00 PM
02/04
Sun
At Sea
02/05
Mon
At Sea
02/06
Tue
St John's, Antigua, Antigua & Barbuda
10:00 AM
10:00 PM
02/07
Wed
Basseterre, Saint Kitts, St Kitts & Nevis
08:00 AM
9:00 PM
02/08
Thu
At Sea
02/09
Fri
At Sea
02/10
SAT
Fort Lauderdale, FL, USA
07:00 AM
---
St. John's, Antigua, Antigua & Barbuda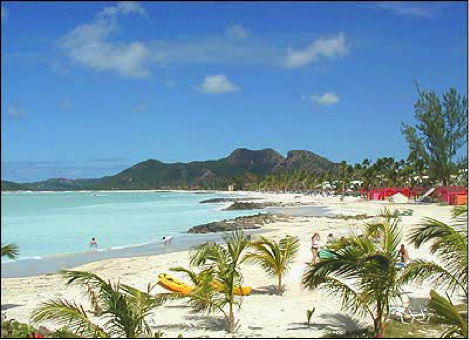 The former British colony of Antigua is something special. Just ask Richard Branson, Eric Clapton, Giorgio Armani and Oprah—they all have homes here. Known for its beaches—there are 365 of them, all white sand lined with palm trees—Antigua also boasts charming harbors and a countryside dotted with old sugar mills. At one time the island was a juggernaut in the sugar trade, and also produced tobacco and cotton. Today, agriculture is still important, with Antiguan sweet potatoes, black pineapples and guavas being among the major crops. The capital city of the dual-island nation of Antigua and Barbuda is St. John's, the center of commerce, with international banks and boutiques as well as a lone rum distillery. Elsewhere on Antigua, English Harbour is of particular note for its maritime heritage, historic sites and excellent restaurants—plus, while there, you'll get to glimpse some impressive yachts as they sail in and out of the bay. The highlight is the restored Nelson's Dockyard, which features gorgeous 18th- and 19th-century architecture but also buzzes with modern eateries and shops.
We thank you for your patience as we worked with Holland America Line to create this new itinerary that allows us to experience the beauty of Antigua. All of us at StarVista LIVE continue to keep our friends in the Caribbean in our thoughts as they continue to rebuild these beautiful islands.
The Country Music Cruise
Real Country Music and a Real Good Time