Killin' Time with Clint Black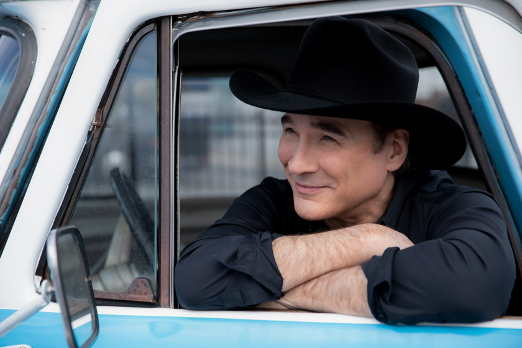 Tenth time lucky! We've been trying to get Clint Black on The Country Music Cruise since we first set sail. Now we've signed him as our headliner in 2024!
Clint was a key member of country music's Class of '89. In case anyone is racking their memory, the others were Garth Brooks, Alan Jackson, and Travis Tritt. Thirty-five years later, they're all still at the top of their game.
Clint was born in New Jersey, but grew up in Katy, Texas. His father was a die-hard country music lover, but, as Clint tells us, he grew up loving all kinds of music. He grew up appreciating songcraft, too. When he declared himself for country music, he brought a lot of knowledge, passion, and commitment to it.
Here, Clint shares a few memories and tells us about his current projects.
You were recently a guest on Henry Louis Gates' PBS genealogy show Finding Your Roots. How did you become a guest … and what was the biggest surprise?
I'm not sure how I was selected. I just got a call from my manager and told him I'd like to do it. The biggest surprise was finding out about my maternal great-grandfather who emigrated from Sicily. Family legend had it that he was a fiddle player or violinist who came over with an orchestra, but it turns out that he came by himself. But he was a musician. They found a photo of the theater he played in Mobile, Alabama. This was during the silent movie era. My great-grandfather and his band would play five, six, eight shows a day.
You and your brothers had a band when you were kids. If someone had heard you in your backyard or at a social, what would they have heard?
Oh, man! It was pretty eclectic. Classic country, of course. But you'd have heard some Eagles, Skynyrd, Johnny Winter, and so on. One of the guys was into '80s British bands like the Psychedelic Furs. We even did a little be-bop jazz.
When you were growing up, was there one artist above all others who inspired you and made you think, "Man, I want to do THAT"?
Merle Haggard really got me into country music. What I really loved was singer-songwriters. James Taylor, Jimmy Buffett, Jim Croce, Dan Fogelberg, and so on. You see, my dad made me read the credits on singles and albums. He'd tell me it wasn't all about the singer and the song. I needed to look at the composer and publishing credits. So I grew up wanting to sing my own songs. From my dad and these singer-songwriters, I learned about harnessing passion, work ethic, and so on.
Your debut album, Killin' Time, really took on Nashville because it was entirely comprised of songs you'd written or cowritten and you used your own band instead of studio session musicians. The result speaks for itself. Four Number One songs from one album.
RCA put me with producer James Stroud. Now, James knew songs and he was a musician. He'd been a session drummer on R&B records and a road drummer. He wanted to hear my band and as soon as he heard them, he knew they were up to it. Then we augmented them with session players. Keyboards, fiddle, and so on.
The Opry is one of our partners on The Country Music Cruise. You joined the Opry relatively early in your career. How did you receive the invitation and who inducted you?
That was Garth. We were taping the Opry's 65th anniversary special at the Opry house. And yes, it was very early in my career. January 1991. My first appearance was in April 1989—a couple of weeks before the Killin' Time album was even released. My real education about the show came after I joined. I ended up writing a song about the Opry, "This Old House."
Your show, Talking in Circles with Clint Black, has completed three seasons. It comes on Circle-TV right after the Opry. How was the transition to the other side of the microphone?
I'd been interviewed hundreds of times, but there was a surprising amount of pressure being the interviewer. I really wanted to rise to the occasion. I wanted to give the fans the kind of conversation you might hear backstage. So often, I'd meet other artists backstage and walk away thinking, "I wish the fans could have listened in on that." That's when the idea came to me.
Then came the big shutdown in 2020. I made an approach to Circle TV, which is co-owned by the Opry, and they bought into it on the first call. I have to say it has been my best-ever television experience and I love working with everyone involved. They trust me and just let me go where I want to go. It could be a conversation about guitar string gauges, but things like that make it interesting and sets our show apart.
We've just finished taping Season Four.
You started a coffee company. How did that come about and what makes Clint Black's Cowboy Coffee distinct?
I love coffee. And like I said, come 2020 there was nothing happening. For years, when I found a coffee I really liked I'd buy up a bunch of packs and send them out to friends in the business. So then I started talking about starting my own coffee company. Me and a friend said, "Let's do this." Usually roasters will roast you a year's worth of coffee at a time. I like it to be less than one month old, so that was our goal and we found a really good small roaster who'd work with us. Our coffee is only available by mail order from the website and when you receive it, it will be really, really fresh. We might scale up the business for restaurants and supermarkets one day, but by selling direct we know we can guarantee freshness.
By the time we sail in 2024, will there be a new Clint Black album?
We're talking about it. I'm writing songs, but I'm always writing songs. But no plans for a new album right now.
When we started The Country Music Cruise, we wanted you as a guest. We're so pleased it's finally happening.
It'll be our first show of 2024, and we're excited.
- Colin Escott © 2023