Darrin Vincent of Dailey & Vincent Checks In With The 2018 Country Music Cruise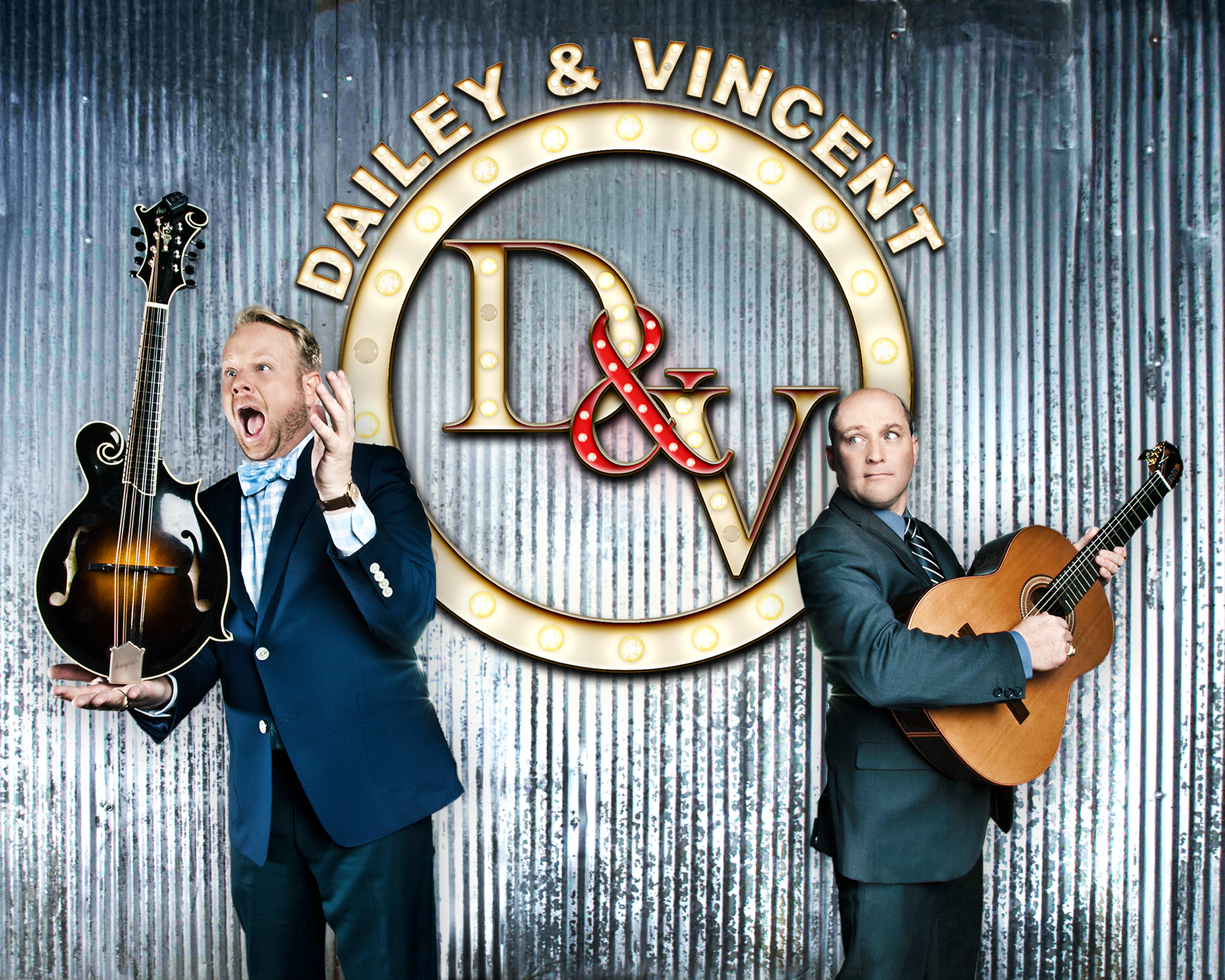 (Darrin Vincent on the right)
It was back in 1946 that the legendary Bill Monroe created Bluegrass music. In the seventy-plus years since then, Bluegrass has gone in and out of style, but new musicians have always come along to reinvigorate it. These days, DAILEY & VINCENT are among the genre's most popular acts. In fact, CMT dubbed them "the rock stars of Bluegrass." Darrin Vincent and Jamie Dailey joined forces with distinguished pedigrees behind them. Jamie had been with Doyle Lawson & Quicksilver while Darrin had played with Ricky Skaggs. Together, they have released eight albums and collected three Grammy Award nominations, 14 IBMA (International Bluegrass Music) awards, as well as four Dove Awards. In fact, they have won nearly every category at the IBMAs except Female Vocalist of the Year, and Darrin's sister, Rhonda, has won that!
Darrin (he's the one missing some hair) checked in with us from his car en route to WSMV, a Nashville television station originally launched as an offshoot of WSM. Of course, WSM-AM has hosted the Grand Ole Opry every Saturday night since 1925, and, as we'll see, the Opry is an institution for which Dailey & Vincent have boundless respect.
---
When did you and Jamie Dailey first play together? And how long was it before you realized that you were better together?
We met in 2001, and we went for breakfast at Cracker Barrel. We were driving there and Jamie had a recording device on his sun visor. He played me a song and he said, "Learn the phrasing on this." We sang it together and our voices blended like brothers. So we started driving around talking about the business, and then singing into Jamie's recorder on the sun visor.
With brothers, there's very often an intuitive grasp of harmony. One brother knows where the other is heading. Is your harmony intuitive like that now, or do you still figure out every song?
After ten years of singing together, it's almost as intuitive for me to sing with Jamie as it is to sing with Rhonda. We're very close to a family group in that way. Darn close!
Is there a moment from Bluegrass history where you'd like to be a fly on the wall or a participant?
Yes! Flatt & Scruggs' Carnegie Hall concert in 1962. A friend of mine was there, and I wish I had been.
Your new CD, Patriots and Poets, has a song, "That Feel Good Music." Was it meant to be a salute to the Bluegrass greats?
It was about music greats in every genre. We were going to play at the Ryman Auditorium—the Mother Church of Country Music—and that was the inspiration. Jamie wrote it with Bill Anderson as a homage to all those who've influenced us. When we recorded it, we got the Grand Ole Opry dancers to dance with their clogs at the end of the song.
Bill Anderson wrote several songs on the new record, and he was in your video for "That Feel Good Music." Now there's a guy who has kept up with the times.
Yes indeed. He wrote his first hit, "City Lights" in 1957. The music and lyrics come out of his heart. He's truly anointed. Truly blessed. And on a personal level, he's a really wonderful guy. Funny, witty, a big heart, kind, and caring. He embraced Jamie and myself right away. He has been a profound influence and he's an American treasure.
What role do you think Bluegrass plays in today's very slicked up country music scene?
To me, Bluegrass would be even bigger if the industry would push it. People love Bluegrass. And look, Bluegrass patriarch Bill Monroe is in the Bluegrass Hall of Fame, the Country Music Hall of Fame and, believe it or not, the Rock and Roll Hall of Fame. Bluegrass has influenced every nook and cranny of country and pop music. Even the Beatles. The heart and soul that the Good Lord gave Bill Monroe have influenced everything, and if you look at how popular groups like the Earls of Leicester, Jerry Douglas, and others are today, I feel Bluegrass could be so much bigger if the industry just got behind us.
You perform every year at the Sally Mountain Bluegrass Festival in Missouri. That's your family's festival, right?
Yes! Back in 1985 or '86, my daddy bought sixty-three acres at one hundred dollars an acre. He and I put in electricity, bathrooms, and built a stage. Every Fourth of July weekend, Jamie and I play there. Rhonda plays. My mom and my brother play, and a whole host of guest artists come along. Daddy's been with the Lord three years this year, but folks still remember him and talk so kindly of him.
Your albums always have a great spontaneous feel. How easy is it to capture that feel in the studio, surrounded by equipment and without an audience?
We've been blessed with great musicians and great songwriters. I feel that the Lord has a hand in every great record, but it's still tough to get it right. Sometimes, a month will pass before we'll listen to a recording we just made, and we'll wonder why we did it! That doesn't happen very often, though.
Steve Martin is a guest on your new album. Does it take a lot of lawyering to get him, or does it just take one phone call?
Just one text! For some reason, I had Steve's phone number. Jamie and I had already finished "California," and we felt like it needed something extra. I said, "I bet Steve Martin could do a killer part for this song." So I texted him, and thirty minutes later he texted me back, saying, "Send me the song." Very little time passed and he sent us several MP3s with different "passes" on the song. He said, "Use them however you want," so we edited them together. That was so gracious of him.
The Opry is one of our partners, and Marty Stuart invited you to become members on your one hundredth appearance in December last year. What does the Opry mean to you? And why is membership still the hallmark of making it, even now more than ninety years later?
I look at the Opry as a historical monument. A piece of music history for America and the world. So many greats got their start there. Bill Monroe, Hank Williams, even Elvis Presley. We had our first paid performance there, but we would have paid just to stand on the stage where so many legends had stood. It changed my life to know that I had the confidence to do it. Last year, we were on the Country Music Cruise and we were introduced as soon-to-be members on the Grand Ole Opry at Sea. I was so emotional about it. Scared, too. To me, it's just the coolest thing to take the Grand Ole Opry and make it part of this magical cruise.
So you had a good time on the Country Music Cruise?
Man, yes! We have been on cruises where music was secondary. On the Country Music Cruise, the whole ship caters to country music fans. You're not sharing the boat with casual vacationers. The folks on the cruise WANT to be there. We love it because it places us in close proximity to the fans. Last year, after the show, we'd go get something to eat and there were the Oak Ridge Boys and several other artists just sitting and hanging out with the fans. If you want an autograph or a photo, you won't leave without one. You can't get that experience anywhere else. The Country Music Cruise is so well put together, you start to feel like one big family. I say, kudos to everyone involved … and thank you for having us back!
- Colin Escott © 2017