Country Comfort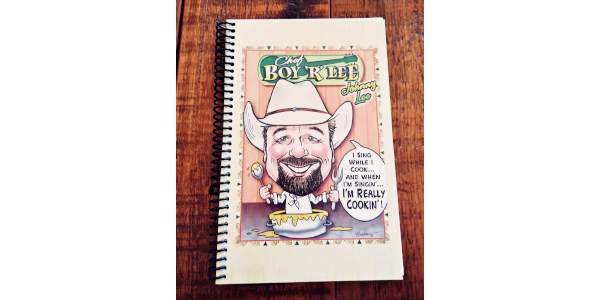 While we're at home and hunkering down, one of the things we've noticed is how much our favorite comfort foods are doing just that…making us feel a whole lot better. Food has always been a big part of The Country Music Cruise, from the endless gourmet meals and 24/7 snacks, to the cooking demonstrations by our artists, so it's no surprise that we're always up for trying out a few new recipes. We took a look around and found some utterly delicious ones that our artists recommend and wanted to share them with you.
Mickey Gilley's Texas Cookbook and Favorite Recipes has been on our kitchen shelf for many years and we know we can never go wrong with his chili.
Mickey Gilley's Chili
Ingredients:
2 pounds ground beef
1 chopped onion
3 cloves garlic, pressed
8 oz tomato sauce
½ tablespoon paprika
½ tablespoon oregano
1 teaspoon cumin
½ teaspoon red pepper
½ tablespoon chili powder
3 tablespoons mesa corn flour
2 cups beer or water
Brown the meat, then stir in the onion and garlic. Continue to cook until the meat is nice and tender. Add the rest of the ingredients and simmer for 45 minutes.
Mickey's longtime pal Johnny Lee is handy in the kitchen, too. He's even published his own "Chef Boy 'R' Lee Cookbook", which is available for purchase here.
Bread Pudding with Whiskey Sauce
1 loaf stale bread
4 eggs, beaten
1 tablespoon vanilla
2 cups brown sugar, packed
2 cups heavy cream
2 cups half and half
1 cup French vanilla coffee creamer
½ cup golden raisins
2 tablespoons cinnamon
Combine 2 cups of heavy cream, 2 cups of half and half and 1 cup of French vanilla coffee creamer into a bowl. Break the bread into pieces and add them in, using your hands to squeeze the bread as it falls apart and mixes evenly with the liquid.
In a separate bowl, mix the eggs, vanilla, cinnamon and brown sugar. Add the bread mix and stir. Then add in the raisins.
Bake at 375˚ for about an hour. While baking, make the whiskey sauce.
Whiskey Sauce
1 cup butter
1 cup sugar
1 cup whiskey
Melt the butter in a saucepan. Add in the sugar until completely melted with the butter. Add the whiskey and stir until warm.
Pour the whiskey sauce over the warm bread pudding and serve it up.
Our longtime host, and friend, Lorianne Crook is no stranger to the kitchen. She hosted a cooking show and welcomed countless stars to Crook & Chase to make healthy, mouthwatering meals. Here's a recipe she made onboard a recent Country Music Cruise during a cooking demonstration.
Apple Cheddar Squash Soup
Ingredients:
4 tablespoons butter
1 onion, thinly sliced
2 unpeeled apples, cored and thinly sliced
1 large unpeeled white potato, diced
1 ½ cups fresh or frozen butternut squash
Salt and freshly ground pepper to taste
½ teaspoon dried sage
2 tablespoons all-purpose flour (or any sprouted grain flour – Lorianne recommends barley flour)
1/3 cup apple cider
4 cups vegetable stock or chicken stock
1 cup milk or unsweetened almond milk
2 cups grated sharp cheddar cheese
Chopped fresh chives for topping
Crumbled bacon (optional)
Melt butter in a large pot over medium-low heat. Add the onions and sauté until lightly brown. Add apples, potato and squash. Season with salt and pepper. Cook until the apples and potato begin to soften, about 8 minutes.
Stir in sage and flour, then add apple cider. Stir until thickened. Add broth and milk, cover and bring to a boil. Reduce heat to a simmer and cook, stirring until the potatoes are soft, about 8 – 10 minutes.
In batches, puree the mixture in a blender until smooth and creamy.
Return pureed soup to the pot. Add the grated cheese and stir until melted and smooth. Season with salt and pepper to taste.
Ladle soup into bowls and sprinkle with chopped chives and crumbled bacon (optional).
Darin and Brooke Aldridge's Chocolate Chip Bundt Cake
Ingredients:
1-Yellow Duncan Hines Cake Mix
1-Instant Vanilla Pudding
1-Cup Milk
1/2-Vegetable Oil
4-Eggs
1 Box-German Chocolate Bar (You will find it in the cake aisle at the grocery store. Look for green and gold wrapper. Grate this and put to the side for later)
1-6oz.bag of chocolate chips
Mix together ingredients 1-5 then beat with mixer for about 3 minutes
Dump in Grated German Chocolate
Mix again, then stir in your bag of chocolate chips
Grease your Bundt pan
Bake for 1 Hour at 350˚
Bellamy Brothers – Mother-in-law Soup Chicken Enchilada Soup
Serves 4 (Double the recipe if needed)
Ingredients:
14oz. chicken Broth
10oz. can red enchilada sauce
4oz. chopped green chilies
14oz. can Diced tomatoes (or a can of Rotel)
10oz. whole kernel corn
1tsp cumin
1TB dried cilantro
Salt and pepper to taste
½ lb Broiled chicken in pieces (you can cut up pre-roasted chicken from store)
Topping/Garnish:
Corn tortilla strips
Shredded Mexican cheese
Avocado – sliced
Place a large pot/dutch oven on medium heat
Add all the ingredients except for the pre-roasted cut up chicken
Increase heat to medium-high and bring mixture to a boil
Add pre-roasted cut up chicken to the pot
Reduce heat to medium-low, cover and simmer for 30-40 minutes.
(Stir soup occasionally so the bottom doesn't burn)
Garnish with toppings before serving