Climb Aboard for a Virtual Look Back at The Country Music Cruise 2020!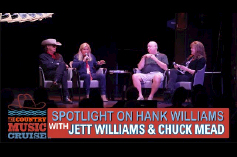 Just because we weren't able to sail together this January doesn't mean we can't gather virtually as a community to celebrate real country music, and a real good time! Over the next couple of weeks, we'll be sharing some special moments, performances, Q&As and more from The Country Music Cruise 2020! Join us from the comfort of your home as our cruise hosts Lorianne Crook and Jason Venner plus Grand Ole Opry Vice President and Executive Producer Dan Rogers take us on a journey back to 2020 as we reminisce on our fondest memories from the cruise.
Climb aboard and make sure you have subscribed to the StarVista LIVE YouTube channel and liked us on Facebook so you don't miss a thing! Check out what we have in store for you this week below and stay tuned for even more in the coming weeks!
Hank Williams Spotlight: A Q&A with Jett Williams Featuring the Mother's Best Collection
On The Country Music Cruise 2020, we hosted a brand-new event celebrating the life and legacy of the incredible Hank Williams. This Spotlight on Hank Williams gives a unique look at the music and life of the iconic singer-songwriter and King of Country Music, as told by his daughter Jett Williams and hosted by Lorianne Crook. Chuck Mead, an avid Hank Williams fan and 7-time alumni on The Country Music Cruise, joins Jett onstage to perform some of Hank's classic hits, followed by a special Q&A with Senior Vice President and Executive Producer of The Country Music Cruise Mike Jason. Jett also shares the history of the magical "Mother's Best" recordings, shows that Hank recorded for his radio program in 1951, which were later released by Time Life. Enjoy this interesting look into the life of Hank Williams, we sure did!
2020 Artist Jam Session
The Jam Session on The Country Music Cruise is unlike any other event and has quickly become a guest favorite. Led by Wade Hayes, various artists are invited up on stage to play a couple of their favorite songs, which makes for a very unique and entertaining performance! On the 2020 cruise, participating artists included John Berry, Karen Hester, Moe Bandy, Chuck Mead and his Grassy Knoll Boys, Tracy Lawrence, Tony Jackson, and John Meyer. Grab your dancin' boots and enjoy these toe-tappin' country hits.
We can't wait to get back onboard and finally enjoy these events LIVE once again!