Catching Up with Larry Gatlin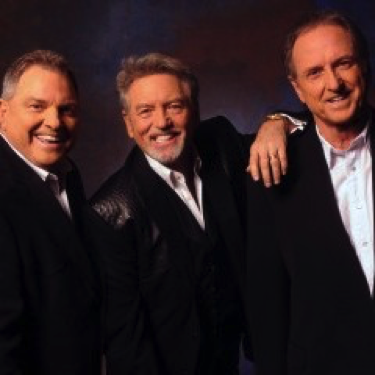 Larry Gatlin, center
Larry Gatlin can cut loose with some of the funniest, shrewdest lines you'll ever hear. They'll make you laugh and make you think. And on The Country Music Cruise you'll likely hear some of them. It has been sixty years since Larry and his brothers began performing and forty-five years since they began recording. Larry has distilled his own hard-won wisdom and that of others into his songs and stories. And, by the way, he and his brothers are still singing as well as ever. When we meet Larry on the 2018 Country Music Cruise, he'll be able to tell us about the first run of his musical, Quanah. If it goes well, it'll come to a theater near you. But let Larry tell you about that…
I based Quanah on a true story, and it's the same story that the 1956 John Wayne movie, The Searchers, was based on. In 1836, a girl named Cynthia Ann Parker was captured by the Comanches in Fort Parker, Texas, near Mexia. She married a Comanche chieftain and had three children with him, and Quanah was one of them. In the movie, she was recaptured by the Texas Rangers and lived happily ever after. But she was not happy to be back. Her relatives tied her to the rocking chair every night so she wouldn't escape. She wanted to be with her sons and daughter. She had forgotten most of the English language she'd learned as a child. Her son, Quanah, was half Comanche and half American-Scottish by birth. He saw the white settlers killing the buffalo, killing fifteen hundred horses, and so on. He saw what was happening to his people and led them to Fort Sill, Oklahoma. He negotiated with the white men, introduced medicine, and learned about Jesus and God. The show is about Quanah, but it's also about the survival of the great Comanche people. Yes, it's a story about war, bloodshed, and death, but, more importantly, it celebrates the strength and power of the human spirit.
It almost sounds more like a movie than a stage musical.
I'm a songwriter, not a screenwriter. But if someone wants to make a movie out of it, let's talk.
Where will it be staged?
April 28 'til May 6 in the Irving Arts Center, Dallas. We have a wonderful director-choreographer, John De Los Santos, and above all we have David Phelps. Almost twenty years ago I heard the background vocals on my solo gospel album, In My Life, and I asked the producer who it was. I told him, "That's the best vocal sound I have ever heard that wasn't sung by someone named Gatlin." It was David and two others. A couple of years later, I heard David sing with the Gaither Vocal Band and I said to myself, "He's the greatest singer I've ever heard." David is going to play the double role of Quanah and his father, Peta. The audience will see us change his make-up and wardrobe on-stage. He'll morph in front of your eyes. And I'll be playing the Old Ranger. I wasn't old enough to play that role when I started writing this because I was only thirty-five. Now I'm plenty old enough.
Do you have Broadway in mind?
Everyone thinks their show is going to Broadway. Our goal right now is to knock it out of the park in Irving. God made "time" to keep everything from happening at once. A great songwriter, Mickey Newbury, said that, and he said he got it from another great songwriter, Albert Einstein. To me, it's almost like God grabbed me by the nape of the neck to hold me back and wait for David Phelps. So if it all works out in Irving, we'll book Quanah in the I-35 corridor from Del Rio, Texas to Duluth, Minnesota—the great high plains where the Comanches once roamed.
Last December, you celebrated forty years with our partner, the Grand Ole Opry. When you started, there were guys who'd been on the show almost from beginning. Tell us about the biggest changes you've seen.
A building with air-conditioning for a start! Back when we first appeared, the Ryman was a firetrap. The wiring was bad. The women's restroom only had two stalls. The dressing rooms were so hot we felt like rats making love in a wool sock. So they moved for the right reason, and now we're back at the Ryman several months a year for the right reason. As we speak, I'm getting ready to host Opry Country Classics tonight at the Ryman and, like the title says, we focus on classic country. But you want to know what has changed? Music has changed. It's a wonderful thing to introduce younger artists who still do real country music, but do it their way. Marty Stuart doesn't do real country music like Marty Robbins. I'm rooting for the younger guys. I'm not going to be a curmudgeon. So, yes, we've lost Roy Acuff, Marty Robbins, Little Jimmy Dickens, Porter Wagoner, Dottie West, and so on. It's heartbreaking but we carry on. The Grand Ole Opry is a living, breathing organism. It's like sourdough bread starter. You take a little bit off, but you grow new loaves from it.
You were part of the salute to Kenny Rogers at the Texas Medal of Arts event last month. That makes you a recipient and a presenter.
That's right. I was honored to be a recipient, and two years ago I inducted the greatest lyricist since Shakespeare, Kris Kristofferson. Kris is country but he comes at it from a different place. We were both English Literature students, and he loved the [great British poet] William Blake. Liking Blake is just naturally going to make your songs a little different from, say, Harlan Howard's because Harlan's experience was on the Detroit car assembly lines. And don't get me wrong, Harlan was one of country music's greatest ever songwriters.
And since your last Country Music Cruise you've started your own line of clothing.
Yes, and I'm very proud of it for several reasons. Four years ago, I met a gentleman named Robin Worley from the Sewell Clothing Plant in Bremen, Georgia. There was a time when they made sixty percent of the suits tailored in America. Then along came NAFTA and they couldn't compete. They barely kept the plant alive. So we designed a line of western jackets and dress jeans that are made in America by Americans. We might have started something!
We hope you enjoyed your experience on your first Country Music Cruise. Welcome back!
My wife and I loved it. The thing is, we don't go hide. I like that I get to sit and put on sunscreen and read a book or two on my iPad, but we make a point of participating fully in everything The Country Music Cruise has to offer. You'll see us in the buffet lines or the yoga class or working out. And you'll see us watching the other artists. They're my friends up there on stage, and I love nothing more than to go watch 'em.
- Colin Escott © 2017