Catching Up with Jimmy Fortune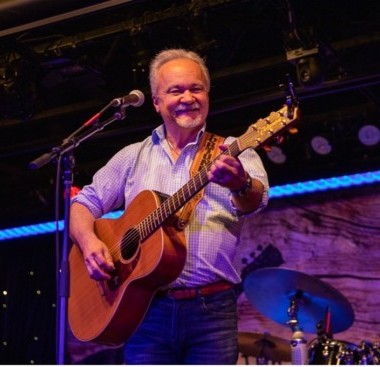 Jimmy Fortune is enduringly grateful for the way his life has turned out. Spend a few minutes in his company and you'll be sure of that.
Of all the singers in the United States who could have replaced Lew DeWitt in the Statler Brothers, Jimmy got the job. A versatile tenor, Jimmy was born just twenty miles from the Statlers' hometown, Staunton, Virginia. He was a good fit in all ways, but one. Younger almost by a generation, he was born the year that the Statlers first performed together. It was always understood that when the three original members retired, Jimmy would carry on.
Jimmy sang with the Statlers for twenty years—from 1982 until their retirement. He has now been a solo singer for exactly as long. These days, his shows are a mix of Statler Brothers favorites and songs from his burgeoning solo career.
What did you do during the pandemic when venues were closed?
Like lots of folks, we stayed home. I did a show from my den called Jimmy Jams. It went up on Facebook every day for three months. My wife Nina and I got together with a few very close friends. And the yard was in pretty good shape by the time I got back on the road again.
One of the original Statlers, Harold Reid, died during the early days of the pandemic. That must have hit you hard.
Oh, man, did it ever. Harold had kidney disease. We knew, but I didn't know how bad it was. He needed a transplant, but it just got so bad that he couldn't come back.
If it wasn't for Harold Reid, no one would know who Jimmy Fortune is. The good Lord put Harold into my life when I needed a break. Harold hired me and taught me about the music business and so much else. He was like an older brother in so many ways. After Harold and Don and Phil retired, Harold and I would talk on the phone right up to a couple of weeks before he died. Solving the world's problems, you know.
Were you able to go to his funeral?
Yes, but we were socially distanced, so it was tough. I could only wave. Harold's brother Don had immune system problems, so we had to stay well away from him. I couldn't hug him or get close. I got to see some of the Reid family, though. It was bittersweet.
How are Phil and Don doing?
Phil's moving a little slower. He's 83 now. Still lives in Staunton and goes into their office to take care of business. Don's doing better than he was. I did a double DVD with Ben Isaacs, Mike Rogers, and Bradley Walker called Brothers of the Heart. Don named that project for us and was so supportive all along.
It's exhausting just looking at your touring schedule these days. You must be happy to be on the road again.
The best advice I've ever gotten or could ever give is to do what you love. I'm grateful to be back out doing what I love. Make no mistake, it's hard work. Singing on-stage, signing autographs, and visiting with the fans—THAT'S the easy part. The travel and behind-the-scenes work—THAT'S the hard part. Makes me appreciate being able to sleep in my own bed and sit still.
Being out on the road, I miss the grandchildren. I've got twelve in all. The youngest are two and four years old. They live near us and they're so much a part of my life. I can't get enough of them.
The Country Music Cruise is presented by StarVista LIVE--a sister company of Time Life Music. Your partnership with Time Life has expanded, and they're now handling the streaming of four albums from your back catalog.
It has been a great partnership. They've been good TO me…and FOR me. I was so happy they brought me back for the 2023 Country Music Cruise. I've hosted infomercials for Time Life and now they're streaming some of my albums. It has just been a great relationship.
You'll be on the 2023 cruise with The Oak Ridge Boys. You worked with them the week after the Statlers disbanded.
We had the same promoter. He said he'd get me on some shows with The Oaks to get my solo career going. I was scared to death. It was so different going out on-stage by myself. For one thing, I didn't know how to do comedy. Harold had always done that. But people see you for who you are. You can't fake that. Audiences saw that I loved them and loved performing for them. I told them my story. I sang the songs I'd done with the Statlers. Mixed in some John Denver and Roy Orbison songs I'd been doing before I joined the Statlers, and some of my favorite gospel songs. I took people on a journey with me, and they could see that I might be a little unpolished solo, but I was sincere. And these days of course, I have more of my own songs I can put into the mix.
Being on a ship with the fans for six days must be quite different from doing autographs and photos after a show?
My greatest gift is that I love people, so I always have a ball on The Country Music Cruise. I love lovin' on people. Gives me an honest-to-goodness feeling in my heart. The fans are very aware and very respectful. They don't force themselves on you. They'll talk and I'll ask them questions. I truly want to know, and THEY know that. I've even gotten some song ideas from what people have told me. The fans are the ones who've put me where I am. I never forget it.
It's great hanging with the other artists and back-up musicians, too. We'll often get a jam session going in a corner of the boat.
What else is going on in your life and your career?
I did a TV show, My Life—My Songs. When the producers approached me, I didn't think I could do an interview show, but we got so many great people on-board and it worked out so well. Jeannie Seely, Bill Anderson, David Frizzell, John Berry, Linda Davis, Bill Anderson, and so many others. I'm pretty sure we'll do some more and expand it by including some music.
I've also written a book, and it'll be called Untold Fortune. One thing you'll find is that I don't say anything negative about anyone—except myself. What I've discovered or rediscovered in writing it is that God has placed people into my life at a time when I needed them to be there. He was preparing me for things that I didn't even realize were going to happen. He was driving me to stay with it. Everything happens for a reason bigger than me. I want people to see that in their own lives. There's hope and there's a future. That's Jimmy Fortune's belief.
- Colin Escott © 2022