Catching Up with Bobby Bare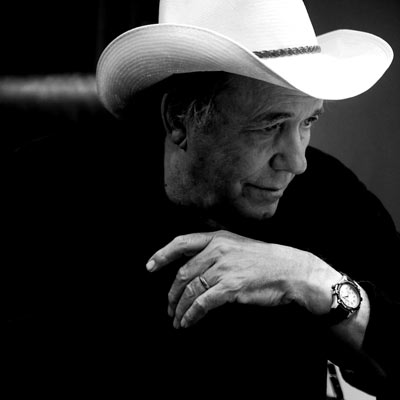 The music industry can be backbiting sometimes, but there's no one with a bad word to say about Bobby Bare. Starting in California in the early 1950s, he has made friends wherever he's been, and the man has been everywhere across the country and nearly everywhere around the globe. Now in his ninth decade, he has slowed the pace a little, but his joy in making music is undimmed.
Perhaps the most surprising fact about Bobby Bare is that he only had one Number One hit. If you think it was "Detroit City," think again. Incredibly, "Detroit City" pegged out at Number Six back in 1963. His only Number One was "Marie Laveau." But if you think "Detroit City" is still one of the greatest country records ever made, you're right.
Bobby laid low for a few years in the late 1990s and early 2000s. Batteries recharged, he returned with new music every bit as good as the classics we remember. There's a just-released new album, Things Change, featuring "Detroit City" sung as a duet with country music's brightest new star, Chris Stapleton.
When we sail in 2018, it will be sixty years since Bobby Bare's first hit, "All American Boy," went to Number Two on the pop charts. If you don't remember Bobby singing that song, it's probably because it was issued under the name of his buddy, Bill Parsons. Bobby had just been inducted into the Army and was in basic training when his record shot up the pop charts. He'll probably tell you the full story if you're curious.
Let's start by asking Bobby how it felt to hear "All American Boy" on the radio announced as Bill Parsons.
I was in basic training in California. At night, I could pick up a Nashville station, WLAC, and I heard a dee-jay, John R., play my song. To be honest, I was just thrilled to hear my voice on the radio. I was shouting, "That's me! That's me!" The other guys in the barracks were saying, "Shut up, Bare, we wanna go back to sleep."
Did life ever hold any serious option for you other than music?
Music is all I ever wanted to do. A country singer is all I ever wanted to be. Through the years, I've had opportunities to do other things, and I've always turned 'em down. Where I came from in Ironton, Ohio, there weren't that many other options. Ironton was across the Ohio River from Russell, Kentucky. It's on the southeast tip of Ohio, right in Appalachia.
You're famously one of the best "song" guys in country music. Have you ever figured out a common denominator among the songs you like the best?
They just turn my head around. Make my heart beat like I've just seen a gorgeous woman. My whole life, since I was nineteen or twenty, has been spent around the greatest songwriters in the world. Back when I started in California, I was around Harlan Howard, Buck Owens, Hank Cochran, to name a few, and then, after I came to Nashville in '64, I met a guy who's still one of my best friends and one of the best songwriters ever, Tom T. Hall. And of course Roger Miller was in Nashville then. Hank Cochran and Harlan Howard had moved there. With writers like that around, there was no excuse for a singer to ever record a bad song.
You did a series for TNN, Bobby Bare & Friends, in which you talked to songwriters. Any chance we'll be able to get DVDs or see those shows again?
Man, I hope so. They're in the Country Music Hall of Fame library. They've all been digitized and they're ready to go if someone wants to release them. I loved doing that show. The idea was pretty simple: I had a ton of friends, and many of them were songwriters, so I thought I'd bring some of them down to talk to me. I got the idea from a movie, The Last Waltz. That was the film of the last concert by The Band ("The Night They Drove Old Dixie Down," "Up on Cripple Creek," etc.) The music in that movie was great, but to me the most interesting part was the interviews with the guys in the group. I loved the music but I wanted to hear more of the interviews, so that was my concept. I think I pulled it off.
The title song of your new album, Things Change, was in the Eurovision Song Contest five years ago. There must be a story there.
Yeah, that IS a story. I have a friend over in Norway, Petter Øien, and he's a singer. Even when I had no albums coming out back home, I had records out in Scandinavia. So I sent some songs, including "Things Change," to a record company over there and Petter heard it and said, "Why don't we do a duet on it?" Then someone came up with the idea of entering it into the Eurovision Song Contest. That show's a really big deal over there. It's on television in every country and it's been going sixty years. ABBA and Celine Dion started their careers on the Eurovision Song Contest. Now every year, I spend all of January and most of February in Florida on a fishing boat, but they wanted me to come to Norway to compete in the round of voting for the Norwegian entry, so I flew from Orlando to Oslo. Petter and I won the first round. I knew it was big deal, but I didn't know it was THAT big. It was like Elvis had come back. Then we came in third in the second round of voting, so we didn't go to the actual contest, which was held in Russia that year. I know if we'd gone, we'd have won because before the Iron Curtain fell, there were two big American stars in Russia and Eastern Europe, Johnny Cash and Bobby Bare.
The new album, Things Change, has a duet with Chris Stapleton on "Detroit City." How did that come about?
I've been friends with Chris for a while. He grew up in Paintsville, Kentucky, which is about sixty miles from where I grew up. Long before he broke through, me and a bunch of others knew he was a brilliant artist. When I was doing the album, I told Chris that I'd like him to join me on a juiced up version of "Detroit City." I wanted to do it Everly Brothers style. He was all for it, so we did it, and it turned out great.
A line in "Detroit City," "By day I make the cars, by night I make the bars," might just be the greatest line in country music.
I agree! I had an uncle or two who went to Detroit. They'd come back with new cars, which none of us had ever seen. But those folks who left Appalachia for Detroit, well, after ten or fifteen years they were homesick real bad. They're the folks who made that record a hit.
On the new record, did you re-create the famous string bends? And who did the string bends on your original record?
Oh yeah, we did the string-bends. Cranked 'em up, too. Jerry Reed played on the 1963 record. People forget he was a great session guitarist before he became a great singer. He'll be inducted into the Country Music Hall of Fame this year, and I'll be doing the induction. To say I'm honored is an understatement.
There's a website that lists all of your recordings, and it shows 633 of them. Of all those records, which is the one that truly encapsulates who Bobby Bare is?
Man, that's tough. I'd say "Detroit City," "Daddy, What If," and the Singin' in the Kitchen album.
You performed on our 2016 Country Music Cruise, and you were a big hit, pinch-hitting for Mel Tillis at the last moment. What was your experience of the Cruise? Oh, and welcome back!
Thank you. It'll be great to see all my ol' buddies. Even though most of us live in Nashville, we don't catch up near enough. Everyone's so busy. So when I'm on-board I go see all the shows. I'll be thrilled to see everyone again, and of course I always love to spend time with the fans.
Bobby Bare's new album, Things Change, was released May 26 and can be found on his website.
- Colin Escott © 2017