The Country Music Cruise Sponsors the 3rd Annual Legendary Lunch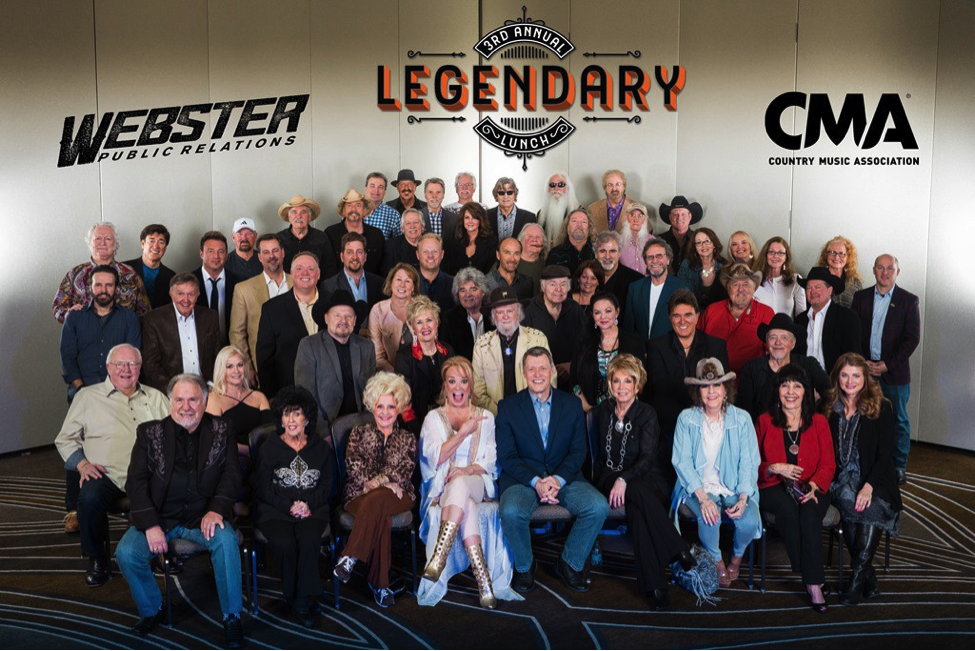 The Country Music Cruise sponsored the third annual Webster Public Relations Legendary Lunch co-hosted by CMA and also sponsored by DUKE FM and Springer Mountain Farms. What a success it was! With over 40 legendary country artists in attendance the event was a virtual who's who of classic country superstars with a staggering cumulative resume that includes 171 #1 Billboard chart hits, 559 Top 10 Billboard chart hits, and over 1033 Top 40 Billboard charted singles. Attendees to the invitation only event included people from Country radio, the music industry, and media gathered together to enjoy camaraderie and fellowship. The Country Music Cruise was happy to be in attendance as well hanging out with many Country Music Cruise artist alumni and meeting some new friends we hope will join us on future sailings.
First time artist attendees included Tracy Lawrence, John Michael Montgomery, Donna Fargo, The Forester Sisters, Johnny Lee, Tim Rushlow, Confederate Railroad's Danny Shirley, Dailey & Vincent, Baillie & the Boys, Razzy Bailey, Wilson Fairchild, Bobby Bare, Hee Haw's Jana Jae, Wanda Jackson, and long-time Webster PR client (of 20 years) Janie Fricke. 650 AM WSM broadcasted live from the downtown Hilton in celebration of The Legendary Lunch.
---
Pictured:
Front row L-R: Gene Watson, Wanda Jackson, Brenda Lee, Tanya Tucker, WSM's Bill Cody, Jeannie Seely, Donna Fargo, Jana Jae, Sylvia
Second row L-R: Larry Black, Lorrie Morgan, Moe Bandy, Janie Fricke, Razzy Bailey, Crystal Gayle, T.G. Sheppard, Bobby Bare.
Third row L-R: Mark Wills, Bill Anderson, Webster PR's Kirt Webster, CMA's Sarah Trahern, Dave & Sugar's Dave Rowland, Roy Clark, Kathie Baillie, David Frizzell, Johnny Lee, Tracy Lawrence, Darrin Vincent.
Fourth row L-R: T. Graham Brown, Ronnie McDowell, Tim Rushlow, Wilson Fairchild's Langdon Reid and Wil Reid, Jamie Dailey, Lee Greenwood, Michael Bonagura, Forester Sisters' Christy Forester, Kim Forester, June Forester, Kathy Forester
Fifth row L-R: Bellamy Brothers Howard and David, John Conlee, Jennifer McCarter, KY Headhunters Richard Young, Doug Phelps, Fred Young, and John Michael Montgomery
Back row L-R: Exile's Steve Goetzman, Sonny LeMaire, Marlon Hargis, Oak Ridge Boys Joe Bonsall, Richard Sterban, William Lee Golden, Duane Allen.