The Connection Checks in with Larry The Cable Guy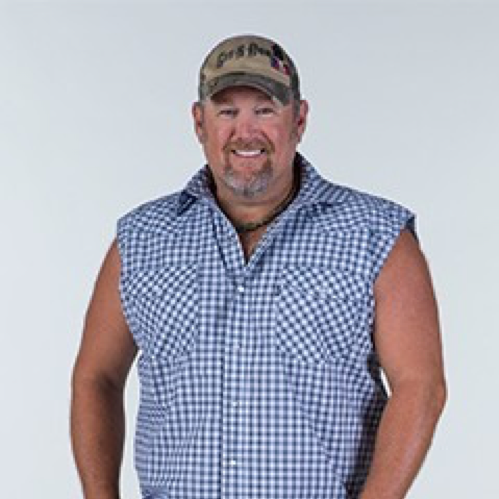 Jeff Foxworthy was such a big hit with our guests on the 2019 sailing of the Country Music Cruise, we brought his Blue Collar Comedy buddy, Larry the Cable Guy, onto our 2020 sailing.
Comedy aside, Larry's country roots run deep. His father, Tom Whitney, was a dazzling country guitar player who even put in some time with the Everly Brothers. The family grew up with country and gospel music.
Larry brings a down-to-earth perspective to fame. Back in 2006, he was profiled on CBS-TV's 60 Minutes. Correspondent Bob Simon previewed the segment by saying, "Unlike many comedians the 60 Minutes team has met, Larry is not angry, he's not depressed, and he's not paranoid. He's a hard-working, supremely confident, happy-go-lucky funnyman." And that's our experience of Larry, or, as his wife and family know him, Dan Whitney. We caught up with him on Valentine's Day as he was en route to a couple of shows in upstate New York. It was early, but he was ready with a joke: "Guys, don't do what I did last year," he said, "and surprise her with the NFL package."
So how's Larry the Cable Guy adapting to the rise of streaming?
He's not worried. No cares in the world. Hey, I keep telling those satellite guys at DirecTV that they ought to get me on a commercial saying the Cable Guy has switched to satellite. It's a golden opportunity for them. It could be the biggest commercial of all time, but so far they ain't listenin'.
Do you ever use your catchphrases, like "Git-R-Done," around the house, or are they prohibited?
Strictly prohibited. But remember, I grew up around a lot of those lines. I was raised on a hog farm in Pawnee City, Nebraska.
So you sometimes find yourself thinking in character at home?
Doing Larry the Cable Guy is pretty easy for me. I'm a country kinda guy. I'm country. Proud of it. But I don't walk around at home as Larry. I'm a pretty normal guy. Country normal.
When you were doing stand-up as Dan Whitney, was there a moment when you introduced "Larry the Cable Guy" and saw that was the way to go?
It was an accident. I was on radio in Tampa doing spots. I had a buddy on before me who introduced me as Larry the Cable Guy. I was on the Ron & Ron Show on WYNF. The piece went over so well I did a second show in character. It was funny and it was fun to do, so I made it into a show.
Do you improvise during your show, depending on how you read your audience?
I love to improvise. That's the fun part. I'm a natural one-liner guy. Something comes into your head. You throw it out there, and you get a wave of laughter coming back at you. What's not to love about that?
You brighten other people's lives with comedy. What do YOU do for fun and relaxation?
Play golf and hang out with my wife and kids. Pretty dull, huh?
Let's talk music for a moment. Your dad was a musician. Were you into country music at all growing up?
Oh, man, yeah. My dad was a thumb-picking guitar player like Chet Atkins. He played in a band called the Memphis Beats. He was a really good guitar player. I would put my dad up there alongside Steve Wariner in terms of pure ability. I never got that talent. I can play a few major chords. I have some drums set up at home. I'll go hammer out some drum solos in my music room.
You're known as a big REO Speedwagon fan. Did they just come along at the right moment for you?
They were the stars of the first rock concert I ever saw. It was at the West Palm Beach Auditorium. I loved their songs. Those hits like "Keep on Loving You" and "Can't Fight this Feeling," they'll be around forever. Their music will never get old. That's why they're still out there, selling out every night they play. It's the soundtrack to my life, that's for sure. When they played Lincoln, Nebraska, REO's Kevin Cronyn played my dad's '53 Telecaster on "Ridin' the Storm Out," and I joined 'em on-stage. I'm proud to say we've become friends.
Who are your favorite classic country artists.
George Strait is my all-time favorite. But there are so many. Conway, Haggard, Tracy Lawrence, Diamond Rio, Tanya Tucker, Cash. Glen Campbell. Oh, man, I could go on. But you know the greatest singer of them all, to my mind, was Daryle Singletary. He died right around one year backl.
We'll have Merle Haggard's sons, Ben and Noel, on-board with us.
I loved Merle. He took me out on tour with him, four or five dates, back when I was first starting out. It was a lot of fun. If I was ever anywhere close to where he was playing, I'd go say hi and jump on the tour bus with him.
You have homes in Wisconsin, Nebraska, and Florida. Which is "home"?
Nebraska. My kids go to school there. I pretty much lived on the tour bus for years. I was doing 265 to 285 shows a year. We bought the place in Florida just to go hang out when we were down that way, but we've sold it now. So home is Nebraska and we have a place on a lake in Wisconsin where my wife grew up. Mostly, we wanted to raise the kids like I grew up. I'm glad to be from a small town with small town values.
You've had many awards and accolades. Which one means the most to you?
They're all awesome and much appreciated. I guess I'd have to say the Billboard Touring Awards are the coolest because they reflect the fans more than critics. They're about capitalism at its finest – folks saving up their money and paying it at the door to come see you. It's really that simple. You don't need to get wrapped up in yourself just because you're onstage. I enjoy making people laugh.
You've said that your Three F's are Faith, Family, and Football, and you're famously a Huskers fan. Did you see any of their games during their winning seasons in the '90s or were you on the road?
I was on the road or working stand-up in Florida. Maybe only got to see four or five games. That was before I bought season tickets. Now I reckon I've maybe only missed one home game since 2005.
We're looking forward to seeing you next January. We hope you're looking forward to performing on The Country Music Cruise and meeting the fans.
Yessir! Years back, I did a Caribbean cruise, but I haven't worked anything like The Country Music Cruise. I know quite a few of those guys. It'll be a blast. Folks will find that I'm a fan-friendly guy. That's half the fun for me, and we'll have some time to really meet and greet. We'll have a heck of a time.
- Colin Escott © 2019