The Country Music Cruise Connection Checks in with Howard Bellamy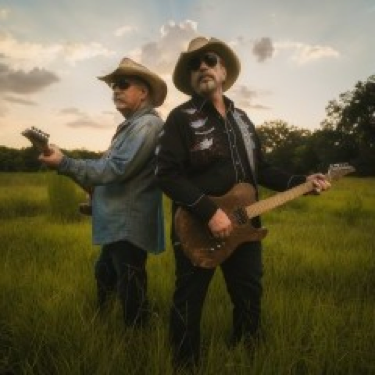 This year marks the fiftieth anniversary of the Bellamy Brothers' first show when they appeared alongside their father at the Rattlesnake Roundup in San Antonio. No, not that San Antonio, but San Antonio, Florida, northeast of Tampa. In the years since, they've racked up forty-six country hits and five pop hits. Eleven of them reached Number One, including "If I Said You Had a Beautiful Body (Would You Hold It Against Me)," "Redneck Girl," "Old Hippie," "For All the Wrong Reasons," and of course "Let Your Love Flow." Along the way, "Old Hippie" placed among Rolling Stone's 100 Greatest Country Songs of All Time and "Let Your Love Flow" was No. 68 on BMI's list of 100 Most Played Songs of the Twentieth Century.
The Bellamys were fan favorites on the 2016 Country Music Cruise, and we're so pleased that their schedule allows them to rejoin us in 2019. We caught up with Howard on the Bellamys' cattle ranch in Dade County, Florida.
Lorianne Crook still talks about the cooking demo you did with her when you sailed with us in 2016.
Oh, man, we had a blast on that cruise. I'm not sure we'll top that cooking demo. I'd been ashore, spent some time with the locals, and got my hair braided into dreadlocks. I don't think I'll be doing that again. Maybe something just as stupid, but not that!
Going back in time, do you remember any of the songs you performed with your father when you did that first show with him in 1968?
We did some old yodelin' Jimmie Rodgers songs, and we still yodel. Hey, we've toured Switzerland for forty years. That'll keep your yodel in shape. We have a buddy in Switzerland who's the world's top competitive yodeler. We want to bring her over here on tour.
You have a joint autobiography coming out as we speak. What made you decide that now was the time to tell your story?
The main reason is we're getting older and we want to get it down while we still remember it. We'd sit around, tell road stories, and everyone would say, "You guys should write a book." So we told some road stories. Maybe some we shouldn't have told. And look out, we have plenty left!
Last year, we had Jim Stafford on The Country Music Cruise. Your brother, David, wrote Jim's first big hit, "Spiders and Snakes." How did that happen?
David and myself had gone out. We got a little inebriated and didn't want our mother to know, so we slept in our bunkhouse there on the ranch. About 3:00 or 4:00 in the morning, a chicken snake got in the bed with me and of course I ran out the door pretty fast, made quite a bit of noise, woke David up. The next morning, he wrote that song. We worked at a local studio in Tampa and we found out who produced Stafford's stuff. We sent him a demo and it was thrown in the reject pile. Stafford saw the title on the cassette box and liked the title and wanted to hear it. Shows how much producers know I guess.
Your biggest hit, "Let Your Love Flow" wasn't written by either of you, but by Neil Diamond's roadie. How come Neil didn't record it?
I guess he wishes he had now! Neil mostly wrote his own songs, and that song made the rounds. Johnny Rivers turned it down and then a guy called Gene Cotton recorded it before us. It just goes to show that the marriage between the song and artist is so crucial. I remember someone handed us the song and said, "This sounds right for you guys." We knew it was,
Did the roadie ever write another hit?
Nope. We listened to all his other songs and there was nothing else there. Thing is, you don't sell songs by the pound. It's just got to be the right one, but he was the richest roadie in the world for a while.
How did your transition to country music come about?
There were a lot of reasons … and they're all in our book. For one thing, disco was getting big. We said, "What on earth are we going to do? How do we compete?" I guess we could have gone disco like the Bee Gees, but we were country anyway. That's what we grew up on. It's not like we'd never done country. It was a pretty bad time for us, but we came back.
Judging from your first few country albums, you didn't even have to cut your hair when you went country?
We were never the norm. When we first went country, we played a lot of shows with Conway Twitty. He opened a lot of doors for us because he'd switched from pop to country fifteen years earlier. He knew what we were and why we were doing it.
Then came "If I Said You Had a Beautiful Body (Would You Hold It Against Me)." Do you reckon you're the only country act, maybe the ONLY act ever, to write a song inspired by a Groucho Marx line?
As far as I know! We were avid Marx Brothers fans and we loved Groucho on You Bet Your Life. A lot of sayings like that went around our family. We had an unusual uncle, and I'll leave it there. Let's just say it paid off.
"Old Hippie" begins "He turned thirty-five last Sunday." Do you change the number when you perform the song these days?
We update it every decade or so. These days, he's more confused than he's ever been.
Brother acts have a history of being somewhat disputatious, but you guys are not only still together fifty years later, but still living close to each other on the
family compound.
That's true. David can probably hear this interview. He lives maybe a quarter-mile away. We have our family ranch. I know brother acts have a pretty rough history, but we've always sorted it out.
So do you watch cattle prices closer than you watch the charts these days?
I do! It's more interesting for one thing. All the music I love is off country radio. Even George Strait is hard to find.
You've done many shows for the troops. Was there one show or tour that you still talk about?
We've been to a few war zones. We played the DMZ in Korea. I tell you, Korea's a tense place. We played Kosovo and Bosnia. The troops had snipers pinned down with infra-red lasers while we were singing. I sure remember that!
On a lighter note, we hope you enjoyed your first experience on The Country Music Cruise in 2016. Thanks so much for returning.
We're looking forward it. We truly are. The great thing is that everyone gets to take their wife or girlfriend. Maybe both. We get to hang out with our buddies. We were booked the year that Mel Tillis couldn't make it. Bobby Bare replaced him at the last minute. We'd toured Europe with Bare many times, and it was so great to hang with him. Fun things happen when you get old guys like us together. If you don't come join us, you'll kick yourself.
- Colin Escott © 2018