2017 Activities and Grand Ole Opry Events Now Revealed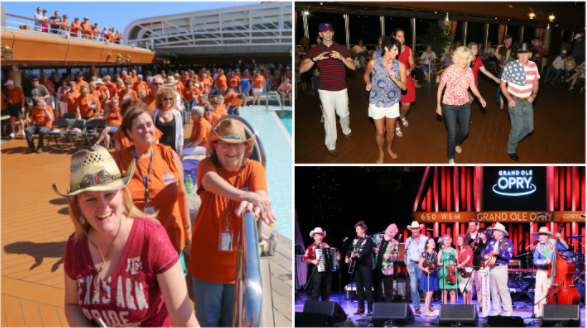 Each year we have as much fun planning our activities and theme nights as we do enjoying them onboard with you. See below to see what we've cooked up this year and the entertaining events from the Grand Ole Opry. These guest favorites have become an annual tradition on board. There's something for everyone – from dancing the two-step, having a little friendly competition, to becoming the next Country Superstar - what's in common is a whole lot of fun!
T-shirt Party. Join us Sunday afternoon for the annual t-shirt party with Chuck Mead and His Grassy Knoll Boys. Put on your 2017 Country Music Cruise t-shirt and get ready to enjoy free drinks and entertainment.
Cornhole Tournament. We have purchased more boards and bags! They will available in the aft pool area all week for all to enjoy and practice if you choose to join in the friendly competition.
Country Superstar Contest. This is your chance to rise above and shine as a true Country Music Superstar…if you can sing and/or play an instrument, sign up onboard for your chance to prove it to your fellow guests. The winner will open for Tanya Tucker on the main stage Thursday night! So sign up for your chance to be "discovered" or at least acknowledged as one fine singer among a crowd of Country Music fans!
Dance Classes. Don't forget to pack your dancing boots! We will be offering more classes this year. Check out the daily program onboard for the scheduled times.
Our Country Music Cruise 2017 artists will be hosting these special events. Availability is limited so click here to register now:
Wine Tasting. Brenda Lee will join the Holland America sommelier in for a wine tasting and food pairing. For just $39.99, you will enjoy this knowledgeable and fun hour learning about wine and what food pairs well.
Bourbon Tasting. $12.50/person. Carefully taste the nuance of flavors at our very own Bourbon Tasting. Stay tuned for the announcement of the special guest that will be joining us.
Renewal of Vows. $48.50/couple. Country music is all about celebrations and family bonds. That is why we offer a special renewal of vows. So take your honey under your wing and join Lorianne Crook for a special reception that includes a photo, cake and a champagne toast! Special Events with the Grand Ole Opry
Grand Ole Opry Performance: A 75-minute live performance presenting features of a Grand Ole Opry show including the Opry's signature mic stands, a replica of the Opry's famed circle, barn set projection, Opry pre-show video, a performances by some of your favorite artists.
Grand Ole Opry Salute to Country Comedy: Through vintage video clips and stories from behind-the-scenes, Grand Ole Opry staffers invite you to laugh along with an army of jokesters from the past including the beloved Minnie Pearl, plus Archie Campbell, Jerry Clower, and more, including rarely-seen bits from crowd favorite HEE HAW.
Grand Ole Opry Stories and Songs: Grand Ole Opry staffers with more than 50 years combined experience behind the scenes at country music's most famous show tell stories behind some of the Opry's all-time favorite songs and play video clips of classics such as "Coal Miner's Daughter," "The Gambler," and "He Stopped Loving Her Today."
Opry Fun and Games: Live from the Grand Ole Opry, it's a blend of country music trivia contests, a race against the clock & your opponents in "Name That Tune", and Opry-themed Bingo fun. Prizes to be provided by the Opry include Opry visits, autographed CDs, Opry memorabilia, and more.
Opry-oke: The Opry team celebrates with guests several times throughout the week until the cows come home with an Opry-inspired karaoke including the Opry mic stand and circle of wood, Opry awards of merit, and other signature Opry elements.