Tim Atwood & Chrissy Sparks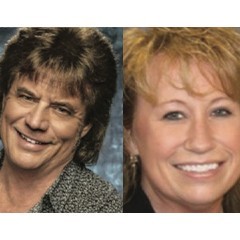 Tim Atwood, a 38-year veteran of the Grand Ole Opry stage, was recently named Fan Favorite by the Genuine Country Music Association. Awarded Instrumentalist of the Year by both the Academy of Western Artists and the Reunion of Professional Entertainers, Tim recently released his third solo album titled Livin' the Dream which resulted in TV appearances on the Hallmark Channel's Home & Family show, Fox News, Larry's Country Diner, Another Wednesday Night Prayer Meeting and Huckabee. This is Tim's third year to entertain on board the Country Music Cruise. Wherever Tim is, fun is sure to follow.
Chrissy Sparks is an accomplished piano player, instructor and teacher from central Illinois, where she teaches music to over 300 children at a public elementary school. Weekends you'll find her playing in her classic country band. Sunday mornings she tickles the ivories at the local country church. Chrissy's joy and passion for music will be sure to make you smile!