The French Family Band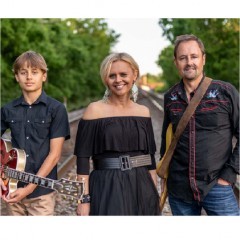 Country music just sounds better when a family sings it. That's where it all began: mothers, fathers, grandparents, aunts, uncles, and cousins, all huddled together, picking and singing on a porch in the twilight.
That's why when The French Family launch into the bittersweet ache of a classic or the startling tenderness of one of their self-penned original songs, the hairs on country music loving necks stand up, and we instinctively––sometimes tearfully––recognize this father, mother, and son as the real thing.
"We've just got to stay true to who we are and what we do," mother Camille French says. "We've always done that––and we won't change." Camille is reflecting on a two-decade long career with her husband Stuie at the family's new home in Nashville, oceans away from their childhood worlds where they both fell in love with country music and ultimately, mastered it.
Touring over the last almost 20 years as Camille and Stuie, the duo became beloved in Australia. They earned three Australian Golden Guitar Awards––that country's equivalent to the CMAs. The Golden Guitars have recognized both their singing and playing: In 2013, the couple earned their first trophy together for Best Alternative Country Album of the Year, while in 2017, Stuie received Best Instrumental Album honors for his stunning Axe to Swing. Two of the pair's original songs––"Gone for All Money" and "Pretty Katalina"––were also featured on the wildly popular Australian television drama A Place to Call Home.
Nashville noticed. Grammy-winning Western Swing maestros The Time Jumpers invited Stuie and Camille to sit in at the group's 3rd & Lindsley residency. That night, grinning widely and dazzling both a crowd already accustomed to greatness and their fellow musicians on stage, Stuie and Camille realized dreams that had begun in grade school.
Stuie grew up in Tasmania. He felt drawn to the guitar and his father and big brother's old Johnny Cash records. "The guitar was so prominent and dominant on those records that I just wanted to learn it," Stuie says. "We had an old Yahama acoustic guitar. Then in the mid-70s, my brother went and bought me an electric. He was a mechanic and didn't have much money, but he bought me a guitar."
Stuie became a monster player with chops that sublimely meld the virtuosity and instinct of jazz with the clear tone and restraint of American hillbilly roots music. Also a fine singer, his vocals nod to the gentle ease of Western swing greats such as Tommy Duncan. Stuie's prodigious skill led to high-profile sideman gigs with Australia's top touring artists, as well as recognition from his own heroes including Tommy Emmanuel, who asked Stuie to serve as a tutor at the Tommy Emmanuel Guitar Camp Australia, and Les Paul, who invited Stuie on stage to play with him in New York. Stuie also toured and jammed with his idol Merle Haggard on the latter's Australian tour as a member of the opening band.
"Stuie is by far the best electric player I've seen in Australia and most other places, and his wife sure can sing, but she's not as good on guitar". - Redd Volkaert.
Camille, née Camille Te Nahu, was raised in New Zealand. A Maori whose mother was also part Samoan, Camille grew up immersed in a tight-knit familial culture that encouraged singing and dancing. Her voice, somehow both crisply expressive and immeasurably rich and smooth, can sit back to soothe in a pocket before jumping out to thrill. "I fell in love with country music," Camille says. "From a very early age, I just knew it was something I wanted to do for the rest of my life." Camille made her way to Australia, where gigs as a backup vocalist for established greats including Kasey Chambers family soon followed. She never forgot her roots––and they never forgot her. Years later, New Zealand television series Unsung Heroes of Maori Music would devote an entire episode to Camille.
Stuie and Camile toured as sidemen for top Australian acts and often opened those shows together for two years before deciding to go out on their own, as a pair. "Once we got together, I always thought he was too good to be in the background––and he thought I was too good to be in the background," Camille says with a laugh. "So we joined forces just to see where it took us."
"It's hard to do on your own," Stuie adds. "But together, you can."
They're also parents to three children (Chet, Manaia and Sonny), and it's been 15 year-old Sonny who transformed a successful duo into The French Family Band. "He was about three when he first started singing, and even from that early age, he could sing in pitch," Camille says. "His timing and pitch were just too good to be true. Then, by the time he was six or seven, he was doing harmony. I've made my living as a harmony singer, but I've never had anybody who locks in with me quite like he does."
Camille and Sonny singing together is a joy––a gorgeous throwback to early country's familial harmonies that also pulses with youth and new energy. Sonny has picked up the guitar as well, and twinning on stage with his father has become the norm. "I love the melodies and the songwriting––and the guitar playing, especially," Sonny says of classic country music. When asked for a list of his favorite artists, Merle Haggard, Buck Owens, George Jones, and Glen Campbell come to his mind first. The industry has begun to take note: The industry has begun to take note: Gibson Guitars USA recently invited Sonny to be part of an international mix of promising young musicians dubbed the Gibson Generation Group (G3).
Now performing as The French Family Band, Camille, Stuie, and Sonny are acclimating to life stateside––deep roots in tow. "I love being able to share our family music with people," says Camille. "I think people crave it. They come up and tell me how much they love seeing the love among our family and what we do––and I love being able to share that with everybody."
Stuie agrees, adding, "We hope our music takes people back to a time when the essence of country music was twangy guitars, honest songs, and vocals that tear your heart out."
"Stuie and Sonny French have invaded Nashville with the best country guitar playing the town has heard in years. Every time l talk to Stuie l tell him "that he is the best country music guitar player in the world." He is my favorite. The heartfelt beauty and language of that style of playing is in the best of hands with the French boys. From the dastardly skill of The Texas Troubadours Honey Fingers, sizzling Bakersfield shuffles, the prettiest of ballads or their own original pieces, Stuie and Sonny French have the lights on bright at their house. As well they should because they have it going on in a mighty big way with plenty more to come l'm sure. I'm looking forward to every bit of it" - MARTY STUART