T. Graham Brown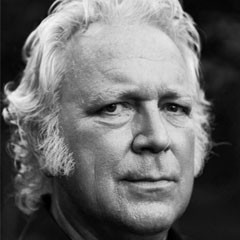 There is only one T. Graham Brown, His "T-Ness" and that uniqueness has made him one of the most enduringly popular singers performing today. He is a journeyman and songwriter whose blue-eyed soul sound defies musical boundaries. He has penned several hit country songs and has garnered ten Top-Ten hits, a CMA Award and a long list of national radio and television ads.
When T. Graham Brown arrived in Nashville from his native Athens, Georgia in 1982, he quickly found work as a studio singer making demonstration tapes. Having such a unique sound, he was quickly signed to Capitol Records. His first single release, "I Tell It Like It Used To Be" stymied country radio but they played it anyway and it became a hit. He followed it with "Hell And High Water," "Come As You Were" and "Darlene." All became huge country hits and T. Graham Brown and his incredible band, affectionately known as the Rack Of Spam, hit the road and haven't looked back since. And the hits kept on coming. "Brilliant Conversationalist" not only scored on the country charts but its accompanying video garnered airplay on VH-1. His version of Otis Redding's "Dock Of The Bay" became a hit in Germany while "Rock It, Billy" was a success in England. He was nominated for Country Music Association Awards in 1987, 1989 and1990 and won in 1992 for the Vocal Event of the Year with George Jones and others on "I Don't Need Your Rocking Chair."
In 1998, T. Graham Brown's single "Wine Into Water" not only inspired the lives of countless individuals but went all the way to the top of the Christian Country Music chart and was awarded the number one independent music video of the year.
T's talents as a jingle singer are in constant demand. He has sung on numerous national commercials for products including Coca-Cola, McDonalds, Budweiser, Ford Trucks, Harrah's Casinos and 7-Up. He has earned recognition in the Commercial Hall of fame in Chicago as the face and voice of Taco Bell's "Run For The Border" campaign for four continuous years.
T. Graham Brown's latest release "The Next Right Thing" was rated top 5 country CD by the USA Today and The Chicago Tribune rated it the # 1 Country CD of the year. T. Graham Brown's "Live At Billy Bobs" has just hit the streets and is also getting rave reviews.
T. Graham Brown...part Nashville Honky Tonk, Memphis Soul, New Orleans Funk, Texas Road House, Muscle Shoals Blues...AND ALL HEART!