Sarah Gayle Meech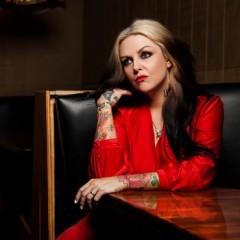 Nashville based country artist, Sarah Gayle Meech is blazing a trail of her own, one that the founding fathers of Country Music would have been proud of. Having lived in Nashville for eight years she successfully blends the city's nature, spirit and seasons into a beautifully unforgiving soundscape with her sophomore album Tennessee Love Song. Drawing inspiration and hailing from Longview Washington, she was surrounded by evergreens, small towns and people with grit, themes that surface often in her songwriting. After moving to Los Angeles for ten years she honed her writing and playing skills in the California country music scene and decided to put down roots in Nashville.
Her first album, One Good Thing, was well received by fans and critics. SavingCountryMusic.com said "One Good Thing is country through and through, piercing the breastplate of honky tonk with an adrenaline shot right to its heart." Since that release she began residencies at the famed Robert's Western World and Layla's on Nashville's lower Broadway. Her second album Tennessee Love Song proved Meech to be a key player in Nashville's music scene. Rising to a whole new level of musicianship, she penned all 15 tracks, coproduced and self released the album. The compositions exposed her softer more vulnerable side with songs like Stormy Weather, but still delivered some hard core honky tonk with songs like Watermelon and Root Beer and No Mess. Meech went on to win The Ameripolitan Music Award for Best Female Outlaw, and gained critical success internationally with many national featured spotlights in festivals and media.
As her popularity rises, so do her achievements. She has many songs and performances featured on film and television such as ABC's Nashville, Netflix's Riverdale, CMT, The Travel Channel, FX's Justified, frequent airplay on SiriusXM's Outlaw Country, and has toured extensively in the US and internationally. Meech is currently working on a new album to be delivered 2021. You can find "Sarah Gayle Meech and The Meech Boys" performing weekly at famed Lower Broadway honky tonk Robert's Western World Thursday, Friday and Saturday.