Lacy J. Dalton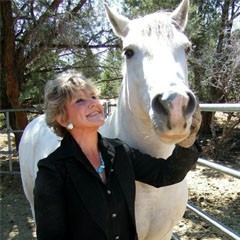 She's one of the most instantly recognizable voices in music – the woman People Magazine called "Country's Bonnie Raitt". From the first time Lacy J Dalton caught the public's ear, that soulful delivery, full of texture and grit, has been a mainstay of Country Music. When you sit to listen to a Lacy J Dalton album, you find yourself pulled in by the very power and heart of this vocalist, because she's not merely performing a ten-song set, she's bringing each and every tune to life. It's as if they were all written especially for her.
Lacy J Dalton's music is a product of her wide-ranging musical tastes. She was born in Pennsylvania, into a family of musicians. Her father played a variety of stringed instruments, sang and wrote country songs. Her mother played guitar, wrote and sang harmony and her sister played piano and guitar. Lacy's early influences were the classic country music of the 40's, 50's and 60's and later, the Folk and Rock sounds of writer/artists like Bob Dylan, Joan Baez and Fred Neil.
She's always been a writer and an artist who loved music with a message and lyrics that somehow brought a new awareness to the listener. She retains this love of material with a purpose, and her song choices reflect that appreciation. Lacy J Dalton was already a Regional star in California when she went to Nashville. Her National success appeared immediate; another case of an "overnight" star that'd paid dues for a long time.
Lacy's success was powered not just by the artist's recordings, but by a stage show that truly electrified audiences. She quickly became one of the few women who could successfully open a show for the likes of Hank Williams, Jr, Willie Nelson, Merle Haggard or Charlie Daniels. Not only could she do it, but she left audiences across the country hollering for more. Her hit records are legendary million-airplay cuts: "Hard Times"; "Crazy Blue Eyes"; "Hillbilly Girl with the Blues"; "Takin' It Easy"; "Everybody Makes Mistakes"; the worldwide hit, "Black Coffee" and her signature song, "16th Avenue", the Anthem for Nashville songwriters voted one of Country's Top 100 Songs ever by Billboard Magazine. Voted Best New Female Artist by the Academy of Country Music in 1979, she brought home numerous Grammy nominations and 3 prestigious Bay Area Music Awards for Best Country-Folk Recording, appearing with the likes of Neil Young, the Grateful Dead and Grace Slick and the Jefferson Airplane.
But Lacy has never been one to rest on her laurels. In 2004, she co-produced her first Independent CD, "The Last Wild Place" with her then husband and Business Manager, Aaron Anderson and old friend, Tom Bocci. She used her long time band, The Dalton Gang. The CD was a great critical success. It went #1 on the World Country Independent Chart. The song, "Slip Away" became the #1 single on that chart as well. A year and a half later, the CD went #1 on the American Western Music Chart and once again, "Slip Away" went #1 on that chart. Less than a year later, "Slip Away" was used in the sound track of Clint Eastwood's daughter, Alison's Sundance film, "Don't Tell". Ironically, over the 20 years since it was written for her, 4 major record companies in Nashville had refused to allow Lacy to record "Slip Away", one reason for her foray into the unchartered waters of Independent recording.
Over the last couple of years, Lacy has toured promoting her new music, which has been called "Americana", delighting both her old Country fans and new listeners all over the world. In 2006, the song, "She Could Run", a poignant song about a race horse, went #1 for months over 900 other songs on the Worldwide Internet Radio Station, KOCR out of Fort Worth, Texas. At this writing, the song "This is Our Time" with David Frizzell, Lacy J, Merle Haggard and others is the #1 airplay song in every country in Europe and hitting in Australia, New Zealand, Africa and South America as well. The video of that project "David Frizzell and Friends" is also a hit worldwide. In addition, a television special called "Family Reunion" with Roy Clark, TG Sheppard, T Graham Brown, Jeannie Seely, Helen Cornelius, David Frizzell, Mo Bandy, Joe Stampley, Ed Bruce, Jimmy Fortune, Crystal Gayle, Larry Gatlin and a host of others is selling well here and abroad. Lacy is featured singing the classics, "Black Coffee" and "16th Avenue". Her former duet performances include George Jones, Eddie Rabbitt, Bobby Bare, David Alan Coe, Glen Campbell. Lacy's collaboration with Willie Nelson on his "Half Nelson" CD was a high spot for her. Lacy was the only woman on that recording, which included singing legends Ray Charles, Neil Diamond, Merle Haggard, Julio Iglesias, George Jones, Carlos Santana, Mel Tillis, Hank Williams and Neil Young, and was awarded a Gold Record for it.
Lacy is presently recording 2 new CD's – the first, called "Songs of the New West" is a collection of Outlaw Country songs which include many as yet unrecorded songs by Lacy and friends, along with classics like, "Wild Horses" by the Rolling Stones and "Friend of the Devil" by the Grateful Dead. In addition, fueled by feelings generated by what Lacy describes as a "Thermonuclear Divorce" from longtime husband and partner Aaron Anderson, she is working on a CD called "What Don't Kill You Makes You Strong" after the title track of that same name.
Early 2009 finds Lacy at work on the soundtrack of a major motion picture and is involved deeply in the work of preserving and protecting America's Wild Horses with her non-profit Nevada corporation, "The Let 'em Run Foundation". "Let 'em Run" recently received a large donation from the Silver Spur Awards in Hollywood. That show is put on by the "Reel Cowboys", an organization of famous stuntmen and Western movie actors like James Garner, Hugh O'Brien, Harry Carey Jr., Dan Haggerty and many more.