Jim Stafford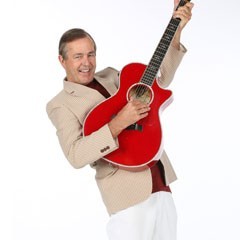 Jim Stafford is an American comedian, musician, and singer-songwriter best known for his 1970s records "Spiders & Snakes," "Swamp Witch," "Under The Scotsman's Kilt," "My Girl Bill," and "Wildwood Weed." Since 1990, Stafford has headlined at his own theater in Branson, Missouri and continues to perform for sold out audiences. He is self-taught on guitar, fiddle, piano, banjo, organ and harmonica.
Stafford's first chart hit, "Swamp Witch," cracked the U.S Top 40 in July 1973. On March 2, 1974 his biggest hit, "Spiders & Snakes" peaked at No. 3 on the Billboard Hot 100, selling over two million copies and earning a gold disc by the R.I.A.A that month. Stafford continued to have chart success through most of 1975. Stafford also contributed to several movie soundtracks. He received a gold record for his work on the Disney movie, The Fox and the Hound and wrote "Cow Patti" for the Clint Eastwood movie Any Which Way You Can.
Not only is he a musician, Stafford is also known for his television work. Many remember him from The Smothers Brothers Comedy Hour revival show, which aired on NBC in 1975 and for which he was credited with being the supervising writer. He appeared numerous times on music specials, variety shows and talk shows. He was a frequent guest on The Tonight Show and co-hosted Those Amazing Animals with Burgess Meredith and Priscilla Presley from 1980 to 1981.