Bobby Bare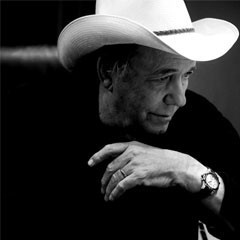 "Hello. This is Bobby. Yeah, I'm on the road, headed to South Dakota for a Show".
The drawl is unmistakeable and immediately conjures song like "Marie Laveau", "Detroit City", "Margie's At the Lincoln Park Inn", "The Winner and the unforgettable "The Giving Tree".
It's a voice that's been missing too long off the airwaves except for the local stations or satellite shows that play classic country and include Bobby Bare songs on their play list.
Fact is, Bare hasn't had a new solo CD out since the 1980's, when he chose to quit recording instead of putting out albums that weren't exactly what he wanted to do.
That's all changed with the release of The Moon Is Blue on Dualtone Records, Bare's recent release of some of his favorite songs from as far back as 1908 and as recent as the 1990's.
The CD marks the first time Bare and his son, Bobby Jr., have worked together in the studio since the youngster recorded with his dad on "Daddy, What If?" "Bobby Jr. had been trying to get me to go in the studio and do stuff with his pickers", Bare tells how the CD came about. "We went in the studio with Mark Nevers of Lambchop, an engineer who worked for years with (producer) Scott Hendricks. Then he just decided he didn't like new country music anymore and he went into the opposite thing.
"So we went into Mark's Studio and the first thing I did was "Are You Sincere" and then I did a couple more things. I enjoyed it; I got in there and thought "This is fun". I'd play chords on the guitar and the band would fall in and just start playing with me. I hadn't done that since (the album) Lullabies, Legends and Lies, and I thought "This is great, it felt good".
Father and son went in the studio in the fall of 2004, and in January Bare went to Florida, where he goes to fish while cold weather wraps Nashville in its heavy cloak. While he was gone, Bobby Jr. took what they had recorded to Scott Robinson at Dualtone Records. Before Bare knew it, he was getting calls form his son and from Robinson. "Scott loved it and so I said, "when we get back we'll finish it out". I didn't have anything to do with the music. I told them I'll just show up to sing and you guys do whatever you want to do, musically. If I insert myself into this you'll have another country record."
The Moon Is Blue is not exactly another country record, but it is a Bobby Bare record. The songs are some of his favorites, "Songs I've loved over the years and I never got around to recording, probably because a lot of them are pop songs", he says by way of explanation. "I remember Guy Mitchell singing "My Heart Cries For you" back in the late 40s, and I remember Charles Asnavour singing "Yesterday When I Was Young", before Roy Clark. I always loved Wayne Walker's "Are You Sincere", I loved the Max Barnes song "I Am An Island" when I first heard it. Max lived over next to me; he'd come over to the house for breakfast. I'd call him every once in a while and ask him for some of his songs so I'd have something to play in the truck. I'd do the same thing for Harlan (Howard) and some of the rest of the songwriters. That song was in the last bunch Max gave me.
"And I wanted to do the old Ink Spots song, "Shine On Harvest Moon". It was written in 1909; I didn't know it was that old. "Fellow Travelers" is an Allen Reynolds song that I heard when he produced me and I always remembered it". Of course there's a Shel Silverstein song, "The Ballad of Lucy Jordan", recorded by Dr. Hook and Tompall and the Glaser Brothers. And Bare recalls hearing Mac Wiseman singing "Love Letters in the Sand" before Pat Boone recorded it. "That's how Pat Boone happened to do it, he was on Dot Records and Mac ran Dot for a while out in Los Angeles," Bare supplies a bit of musical history while talking about the songs he recorded.
Bare tells about wanting to record "Everybody's Talking" back in the 1960s, a couple years before Midnight Cowboy came out. "I got hold of a Harry Nilsson album and took it to Chet (Atkins) and told him I wanted to record that song and Chet said "That song doesn't make much sense". Of course he was right, it doesn't make a lot of sense, but I still loved it. But Chet was always right. The audience I had then probably wouldn't get it. I finally got to do it this time."
Bare may have been familiar with the songs but he wasn't familiar with most of the musicians before he started recording the project. "Most of them were pretty new to me. Now I had known Tony Crow, because he's part of Bobby's circle. But I just let'em roll and do their thing in the studio. For instance, on "Are You Sincere", the bass player was doing a walking bass on that, which is something that I would never have done with that song. But it feels good when you're singing it. On "Am I That Easy to Forget", that middle break is some kind of distortion; I don't know what it is. The intro to "Everybody's Talking" is really strange." "I would ask them about these things and they would say, "It sounds cool" and I'd say "alright, this is a cool experience".
Bare is aware that he probably won't be played on Billboard's top 100 stations, but he says he's been doing a lot of interviews with deejays around the country who are playing songs off the new project. He's also finished a video for "Are You Sincere". It's all visual now," Bare admits. "If you kick that back to the 1950's, if it was visual then, we might never have heard Hank Williams or Hank Snow and probably not Marty Robbins."
What it may not be now is as much fun as it once was for the singers and entertainers in country music. Before Waylon died, we were talking about that, and Waylon said, "You know all these new acts, they're not having any fun; hell, we had fun." And we did. We'd sit around and pick guitars and sing new songs and we loved the music. And we played pin ball. Now I get the feeling that none of these acts even know each other. You don't get to hang out on the road like we did. If some big star has somebody open for them you might get to know them a little but that's about it. They might meet in the hallway at some awards show but you don't' really know anybody, you don't have fun with them. "Young people have energy, drive and they are willing to do anything to get on record. The record companies love it, because these young artists are ignorant. I was ignorant too. A lot of times it's an asset, it allows you to do things, keeps you in the business. If your young and know the odds and have any sense at all, you probably wouldn't do it. When you get older you know what the odds are."
Bare thinks most of the popular artists are sincere about their music, and he says a lot of it is very good. "I don't know how it can sound any better," the singer says, acknowledging that the technology allows the artists to sound the best they can be. "Tim McGraw comes up with a lot of great songs. Of course when Garth was with Allen Reynolds...Allen is a great song person and he's got a handle on those songs. I loved "Almost Home" by Craig Morgan. That was a great song. I loved "The Cowboy In Me" that Tim McGraw did. I love Keith Urban. And Kenny Chesney comes up with some great songs, but of course his producers are great songwriters. Buddy (Cannon, Chesney's producer) is what I consider a version of Allen Reynolds, as far as knowing great songs. And he's a great person. When he gets a song he respects it and does it right. That's important."
Though country music has fallen from its height of popularity in the late 1980's and early 1990's, Bare is sure that it will come back around. The world loves country music. America loves country music. We've gone through this before with Elvis- people thought country music was dead. It came back in the 1960's with a new batch of young people. I was a part of it."
"Then in the 1970's came disco and it took over and then it got boring and then all of a sudden, bam there was Randy Travis and a whole group of new country artists and they had a big ride."
"Now that's evolved into a great pop sound and again, it's become boring, which means that right around the corner there's another group of young people waiting in the wings to start a brand new cycle. It's just a matter of a year or two."