Asleep At The Wheel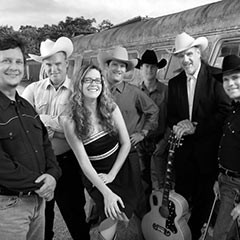 Asleep at the Wheel has seen miles and miles of Texas, and they got their kicks on Route 66. Now in their 46th year, the band continues to introduce the western swing genre to a new generation. "It's been an amazing ride. From Paw Paw to San Francisco to Austin, we've seen it all," says Wheel front man Ray Benson. "But, rest assured, there are still so many exciting projects in the works. The Wheel keeps rolling!"
The Beginnings
"There's some relatively unknown group around that I really dig. Asleep at the Wheel plays great country music."
- Van Morrison's Rolling Stone Interview (1973)
It all started when Ray Benson, Floyd Domino, and Lucky Oceans, along with a Vermont farm boy named Leroy Preston; Virginian Chris O'Connell; and Gene Dobkin, a bass player and fellow classmate of Benson's joined forces. They began with a simple goal: to play and help revive American roots music.
Asleep at the Wheel landed a gig opening for Alice Cooper and Hot Tuna in Washington, DC in 1970. At the height of Vietnam, many Americans were using their choice of music to express their stance on the conflict in southeast Asia. "We wanted to break that mold," said Benson. "We were concerned more with this amazing roots music, which we felt was being lost amid the politics. We were too country for the rock folks and we were too long-haired for the country folks. But everybody got over it once the music started playing."
A year later, they were coaxed into moving to California by Commander Cody, leader of Commander Cody & His Lost Planet Airmen. But, the band's big break came when Van Morrison mentioned them in an interview with Rolling Stone. The record offers started coming in and the Wheel got rolling.
80+ Members But Who's Counting?
"We're a dance band. That's what we're about. And that's plenty."
- Ray Benson
The musicianship of Asleep at the Wheel has become the stuff of legends. Reuter's pegged the Wheel as "one of the best live acts in the business." Taking a page from Bob Wills' book, the band has constantly toured at a national level throughout its history; with anywhere from 7-15 of the finest players Ray Benson could talk into jumping in the bus to play a string of dates. The alumni roster is well over 80+ members, and includes an impressive list of musicians who have gone on to perform with artists such as Bob Dylan, Van Morrison, Lyle Lovett, Ryan Adams, and many more. A quick scan of awards, such as "Touring Band of the Year" (CMAs, 1976) and "Lifetime Achievement in Performance" (Americana Music Awards 2009), not to mention near dominance of the GRAMMY "Country Instrumental" category over the years, reflects the reputation of the band's musicianship. Ray Benson fell in love with western swing because of its unique combination of elements of American blues, swing and traditional fiddling but also for its demanding musical chops. Western swing is what Benson calls "jazz with a cowboy hat," is a thrill to hear live, and thanks in large part to the Wheel's 40-plus years of promotion, is a living and creative genre of music today.
On the Records & the Road
"Everything this act has ever released is simply spectacular."
- Billboard Magazine (2010)
Over their history, Asleep at The Wheel has earned ten GRAMMY Awards and released more than 25 studio and live albums, and there is no sign of slowing down any time soon. The band's most recent release, Still the King: Celebrating the Music of Bob Wills and His Texas Playboys, garnered the 2016 GRAMMY Award for Best Recording Package. The critically acclaimed album, named one of Rolling Stone's 40 Best Country Albums of 2015, is the latest in Asleep at the Wheel's long-standing tradition of "keeping Western Swing alive for 45 years" (Wall Street Journal). Featuring 22 acclaimed collaborations, the all-star line up includes legends such as Willie Nelson, Merle Haggard and George Strait and newcomers like The Avett Brothers, Amos Lee, Old Crow Medicine Show and many other fine talents.
From the Stage to the Dance Floor
"The Wheel plays music that is timeless, infectious, and is meant for dancing."
- Dallas Observer (2014)
Throughout their four decades, the Wheel has driven the genre to the edge, explored new territories, picked up new passengers along the way and crisscrossed the country to the delight of fans and critics alike. Asleep at the Wheel has brought a fresh look and sound into 2016. Now traveling as an 8-piece band, recent additions Katie Shore (fiddle, vocals), Dennis Ludiker (fiddle, mandolin) and Connor Forsyth (keyboard, vocals) have instilled a newfound energy and their own unique style within the band. Between those Texas Twin Fiddles and Boogie Piano, you can bet you'll be dancin' down the aisles and swingin' all night long when the Wheel rolls into town!