50 Shades of Hay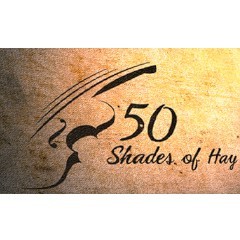 50 Shades Of Hay plays country, western swing, bluegrass, blazing solos and, as the band says with a wink, "songs about pain for your pleasure."
With singer/songwriter Wendy Newcomer on lead vocals, the boys bring the harmony like the Jordanaires did for Patsy Cline. When Eamon McLoughlin and Paul Kramer take the lead on fiddle, mandolin and guitar, these triple threats impart unforgettable solos. Multi-instrumentalist Rory Hoffman brings magic and creativity to anything he plays, including accordion, mandolin, harmonica and guitar. Bassist David Spicher brings the rhythm low end on a big upright bass. He and nimble guitarist Zander Wyatt provide the rhythm bed.
Rory Hoffman -- Accordion, Mandolin, Guitar, Vocals
Rory Hoffman is a Nashville-based multi-instrumentalist. Raised on a small ranch in North Dakota, Rory grew up recording and touring with the family Gospel band. He started teaching himself to play guitar and piano at age 3. By age 5 he was the drummer in the family band. He currently plays over a dozen stringed, keyboard and wind instruments.
Rory works both as an artist and as a sideman for other artists. He has played piano, accordion and guitar at the Grand Ole Opry backing Ricky Skaggs and John Cowan. He has traveled regularly with Kathy Mattea and John Jorgenson. He played on Kacey Musgraves' A Very Kacey Christmas and joined Musgraves on her holiday tour dates. Just Jazz Guitar and Guitar Player magazines have written feature articles about his unique guitar style. Rory is a two-time winner of Musician of the Year from Nashville's ICMA.
Paul Kramer -- Mandolin, Fiddle, Guitar, Vocals
Paul is a Nashville-based multi-instrumentalist, vocalist and songwriter. He has toured with nationally known recording acts including Gary Allan, Travis Tritt, Pam Tillis, Suzy Bogguss, and the Special Consensus Bluegrass Band. His fiddle and mandolin stylings have graced the recordings of Lionel Cartwright, Suzy Bogguss, Leon Russell, Willie Nelson, Buddy Spicher & Vassar Clements, Carolyn Martin and Brennen Leigh. He has released three CDs: Swing Street, The Bloggrass Boys and Low Budget Christmas. He currently performs with several bands including Paul Kramer & Swing Street, 50 Shades of Hay, The Grassaholics, Brazilbilly and Nashville Fiddle Mafia.
Eamon McLoughlin -- Fiddle, Mandolin, Vocals
Playing Mandolin and Fiddle, Eamon is also responsible for making people feel great about filling up the tip jar! Originally from London, he moved to Texas in 1997, played and recorded with songwriter legends including Ray Wylie Hubbard, Bruce Robison, Kelly Willis and others. He gained two Grammy nominations as a member of The Greencards, later went to work with Josh Turner and Ashley Monroe, and now tours regularly with Emmylou Harris and Rodney Crowell. He's also a member of the Grand Ole Opry staff band.
Wendy Newcomer -- Vocals
Wendy is a singer/songwriter originally from Asheboro, North Carolina, currently living in Nashville, Tennessee. Her latest self-titled CD features original songs influenced by heroes including Emmylou Harris, Loretta Lynn, Patty Loveless, Guy Clark and Tom Petty; and interpretations of songs by some of her favorite writers. She made her Grand Ole Opry debut in 2000 and released her debut EP, Raised On Promises, in 2004. In 2008 Wendy's song "Runaround" won the MerleFest Chris Austin Songwriting Contest in the Country category. In addition to her shows with 50 Shades of Hay, Wendy performs around the country on solo dates; is a demo and session singer; and has also recorded regional voiceovers and jingles.
David Spicher -- Bass, Vocals
A native of Nashville, TN, David is the son of session fiddle king Buddy Spicher. He has performed with Kathy Mattea, Crystal Gayle, Trisha Yearwood, Pam Tillis, Lorrie Morgan, the Jerry Douglas Band, Carolina Rain, Hank Thompson, Jim Lauderdale, Nickel Creek, Eric Heatherly, the Nashville Symphony, John England & the Western Swingers, and his family's own Nashville Swing Band.
Zander Wyatt -- Guitar
Zander Wyatt is a Nashville native guitarist/multi-instrumentalist. He is a third-generation musician with a grandmother who recorded with Frank Sinatra (as well as countless others), a mother who was an A-team harpist in the '90s, and a father who served a 30-year tenure with the Nashville Symphony. He has had the opportunity to perform/record with John Michael Montgomery, Lady Antebellum, Ocean Street, The Gypsy Hombres, and Larry Fleet.